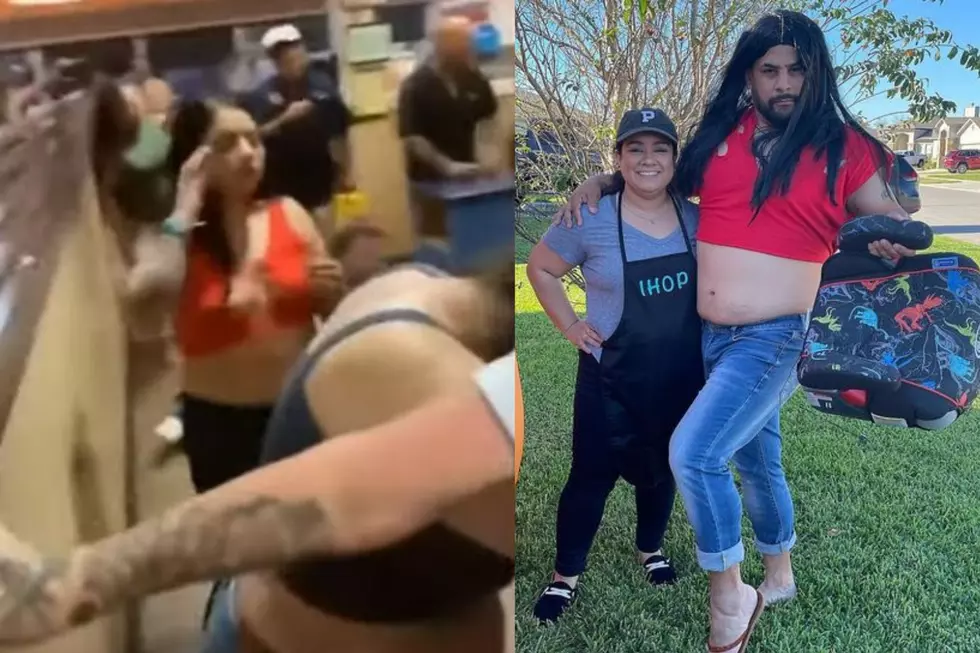 ONE YEAR AGO: The Victoria IHOP Fight Goes Viral and The Victoria Couple That Spoofed It
L-Facebook R-Vanessa Cantu
One year ago, Victoria, Texas was put on the map! People learned just how crazy things can get at IHOP. Multiple videos were posted on Youtube, TikTok, and Facebook and eventually made it the national media outlets. Cops were called however no arrests were made at the time.  I have since been to IHOP in Victoria and had a pleasant restaurant experience. Just in case you need a refresher you can see the video below and you can also see the video that a Victoria Couple did for Halloween spoofing the entire thing
---
---
The very next month, Victoria residents Oliver and Vanessa Cantu put their comedic spin on the viral IHOP incident. They might have just won Halloween with the video. Vanessa dressed as the IHOP employee while Oliver...
ANYTIME ANYWHERE:
It wasn't long before the rest of the IHOP crew ( Ramiro) showed up and things got a little out of control. Apparently, they ain't scared of you and will take on you anytime, anywhere including Skillets...
We love Oliver and Vanessa and we appreciate them showing us how you can make a marriage fun. We can't wait to see what they do next.
OLIVER LOST A BET:
Last year, Oliver lost a bet, and his wife, Vanessa, got to pick out the outfit that he would wear holding a sign proclaiming that his wife was the best.
Vanessa went with the classic dad look with an outfit that was put together at Goodwill just hours before he paid his bet. I mean it doesn't get more 'dad look' than a T-shirt tucked into jorts with high socks. The only thing that was missing was the white New Balance shoes LOL.
RESTAURANTS THAT VICTORIAN'S MISS & WANT
LOOK: 50 famous memes and what they mean
With the infinite number of memes scattered across the internet, it's hard to keep track. Just when you've grasped the meaning of one hilarious meme, it has already become old news and replaced by something equally as enigmatic. Online forums like Tumblr, Twitter, 4chan, and Reddit are responsible for a majority of meme infections, and with the constant posting and sharing, finding the source of an original meme is easier said than done. Stacker hunted through internet resources, pop culture publications, and databases like
Know Your Meme
to find 50 different memes and what they mean. While the almost self-replicating nature of these vague symbols can get exhausting, memes in their essence can also bring people closer together—as long as they have internet access.