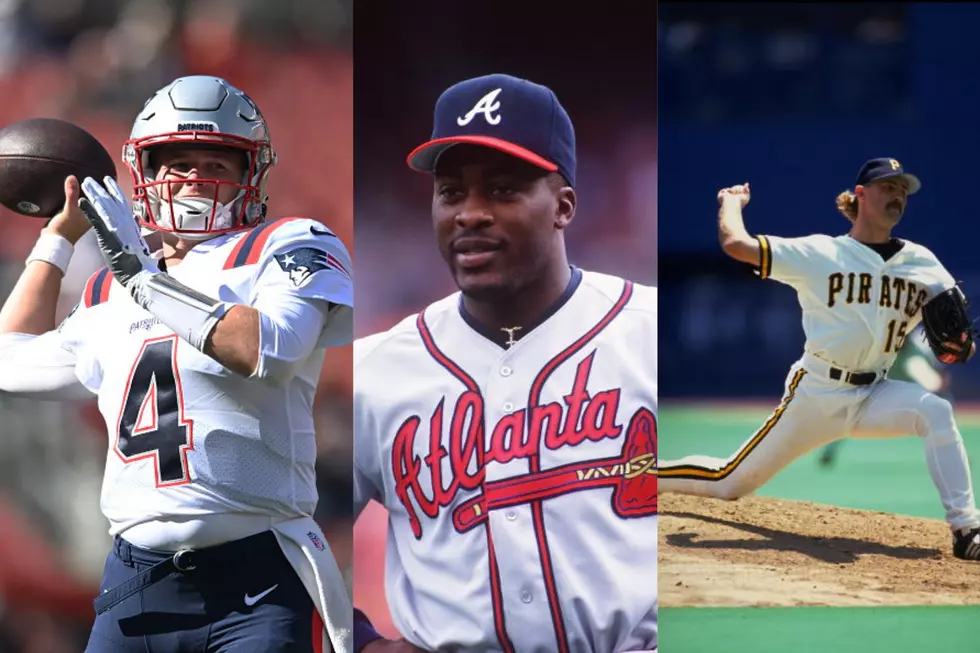 Another Great Athlete Representing Victoria Texas
(3) Getty Images
Bailey Zappe's rise to the NFL has been electrifying, to say the least!  From East Titan graduate to Houston Baptist, Western Kentucky, to the starting quarterback of the New England Patriots.  During his year at Western Kentucky, Zappe recorded a stat line of 475/686  with a total of 5,967 yards throwing for 62 touchdowns, both stats are now college records. At this point, we kind of felt that Zappe was a special breed!  Zappe was selected in the 4th round at 137 by Bill Bellichek and the Patriots.
Zappe's first NFL appearance put him up as one of the greatest, Aaron Rodgers, and Zappe held his own pushing the Green Bay and Rogers into overtime. What a way to be introduced to the NFL. Zappe's role at the time of the Green Bay game: 3rd string quarterback. Zappe's role on the Patriots now: STARTING QUARTERBACK! 
Zappe has shined in his first two NFL starts and has the NFL buzzing. With Zappe as the starting quarterback, the Patriots are 2-0, and last game against the Lions, he was 24/34 with 309 yards passing with 2 touchdowns and 0 interceptions.  We are all excited to see what Zappe will accomplish during the 2022 NFL season.  GO BAILEY!
RONNIE GANT'S BACK-TO-BACK 30/30 YEARS:
Victoria High School graduate, Ronnie Gant, and company started the Atlanta Braves dynasty of the 90s. Ronnie Gant was not only part of an explosive offense. He also had one of the deadliest pitching rotations on the planet on his side in Glavine, Maddux, Smoltz, and Avery among others.
1990 was Gants breakout year as he hit 32 home runs and stole 33 bases landing him in the 30/30 club for the first of 2 consecutive seasons. He also had a batting average of .303 this year.   He hit 32 home runs and stole 34 bases the very next season.  He was known for power and speed and a smooth swing.  He made it to two World Series with the Braves and one NLDS. He missed the 1994 season due to an injury. After that, he went to play with other MLB teams. But for me, he will always be that Victoria Stingaree that played for the Atlanta Braves.
DOUG DRABEK WINS THE CY YOUNG AWARD
This 1980 graduate of St. Joesph High School pitched in the Major Leagues from 1986-1998 with the Yankees, Pirates, Astros, White Sox, and Orioles  Like Gant,  Doug Drabek's breakout year was in 1990 with the Pittsburgh Pirates. He won the Cy Young Award with a 22-6 record, 2.76 ERA. He also pitched 9 complete games this year. Doug Drabek's brilliant pitching continued through the 90s as he made the top 5 in Cy Young voting in 1992 with the Pirates and 1994 with the Houston Astros. He also made the National League All-Star Team with the Astros in 1994. GO BIG BLUE!
JOE BEAVER BECOMES A WORLD CHAMPION
Here is another success story from the St. Joseph Flyer(1984). Joe Beaver became a member of the Professional Rodeo Cowboys Association (PRCA) in 1985, the same year he won his first World Championship.  The resume for this Flyer is absolutely amazing with 8 titles won. He was also World Champion All-Around Cowboy 1995-1996,2000. Career Earnings: $2,864,172.00. Joe Beaver held the PRCA all-time career earnings leader with $2,656,736 (through 2006). He was inducted Inducted into the ProRodeo Hall of Fame in 2002. Once a Flyer always a Flyer!
JERHEME URBAN MAKES THE NATIONAL FOOTBALL LEAGUE
How about some love for Stroman High School? Stroman Raider graduate Jerheme Urban had his sights on the NFL. After graduating from Stroman, he took his talents to Trinity University where he worked on his craft and found himself on the Seattle Seahawks. He was signed as an undrafted free agent by the Seahawks after the 2003 NFL Draft.  He was also a wide receiver for the Cardinals and Chiefs. He scored 4 touchdowns for the Cardinal in 2004 with 34 receptions. It's awesome to have Victoria represented in the NFL, specifically a Stroman Raider.
CHECK IT OUT: 100 sports records and the stories behind them