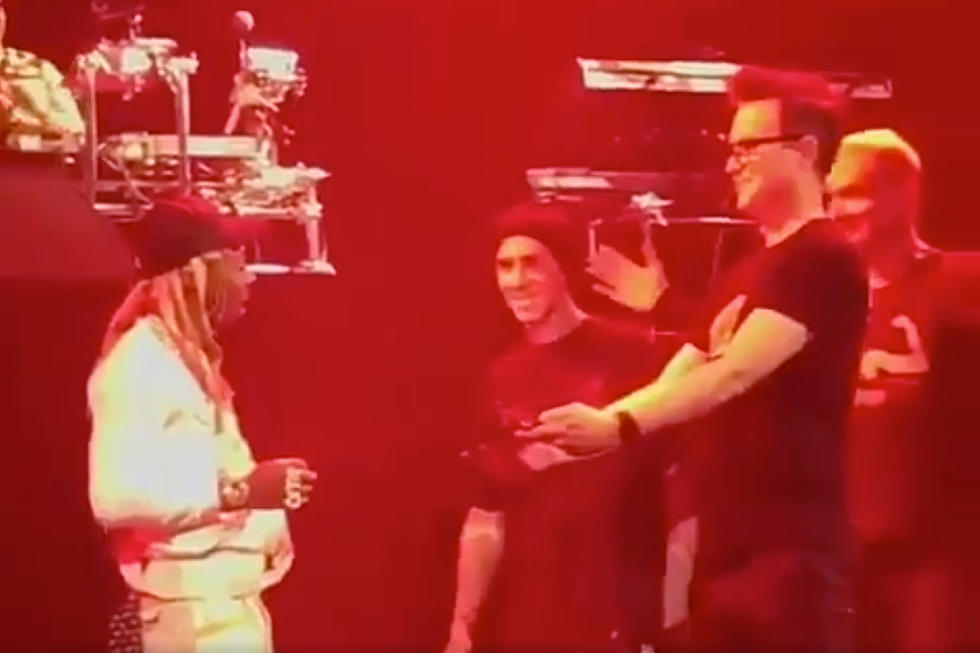 Watch Blink-182 Give Lil Wayne a Blunt Onstage for His Birthday
Instagram: @lisa_182
Blink-182 are great gift-givers. Because what better gift is there to give Lil Wayne for his birthday than a blunt? So that's exactly what the rockers did onstage last week. They gave him a blunt on a silver platter.
Entertainingly, the gift-giving reportedly went down Friday night (Sept. 20) in advance of Wayne's 37th birthday this upcoming Friday (Sept. 27). It served as a celebratory way to wind down Blink-182's recent joint trek with the rapper, which kicked off earlier this summer. Watch fan-captured video of the birthday blunt moment down toward the bottom of this post.
The exchange was nabbed on video thanks to one Instagram user present at the concert, where Lil Wayne and Blink-182 wrapped up their co-headlining trip, as XXL reported. During the finale at the Barclays Center in New York, the pop-punk outfit closed things out by gifting Tunechi the blunt while performing.
Weezy was apparently caught a bit off guard. "What the fuck, man," the rapper exclaims when he first spies the token of tour appreciation offered by the band's Mark Hoppus, Travis Barker and Matt Skiba.
In the clip, Hoppus initially extends a small tray to Wayne after the trio rush the stage. The rapper then picks up the blunt and asks the band if they're serious. After a member of his crew lights it, Lil Wayne thanks them, saying of Blink-182, "My fucking brothers for life, man," according to Consequence of Sound.
Perhaps the cannabis was a bit too much, however. Lil Wayne disappointed fans the following day when he pulled out of his scheduled performance at Las Vegas' Life Is Beautiful Festival at the last minute.
The move frustrated some spectators, as seen below, but perhaps the 11th hour no-show is consistent with the rapper's recent track record. His traveling team-up with Blink was marked by a similar cancelation and at least one truncated concert after Lil Wayne claimed onstage of the tour, "That's not my swag." However, he later clarified he wasn't quitting the run: "I'm having too much fun with my bros blink-182," he said.
12 Rappers Inspired by Rock Music