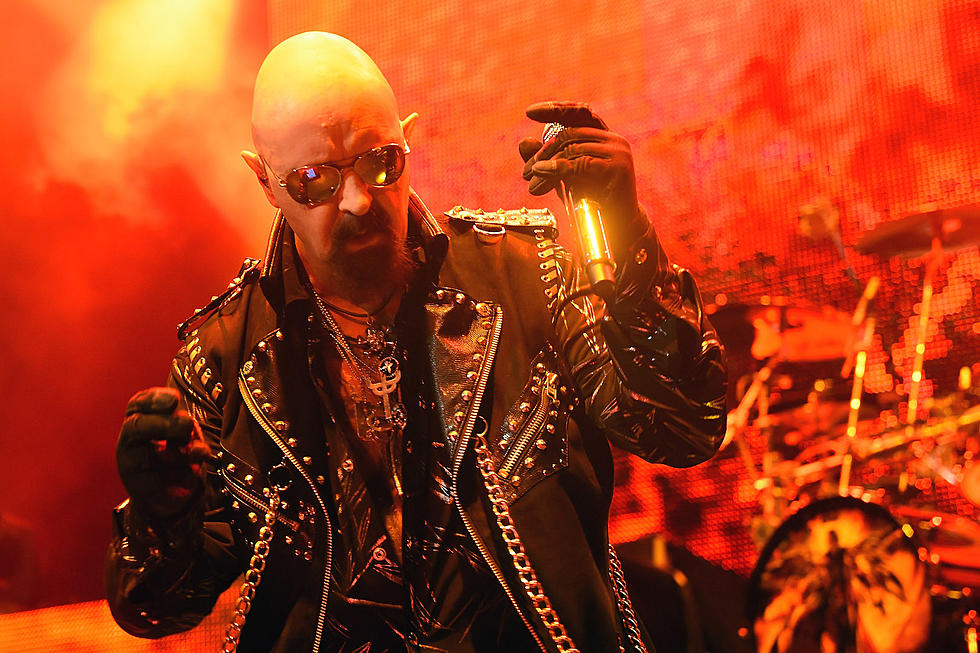 Judas Priest's Rob Halford: 'I Am Going to Write a Book'
Ethan Miller, Getty Images
Judas Priest's Rob Halford was the latest guest on Full Metal Jackie's weekend radio program. He discussed the success of Priest's latest album, Firepower, his admiration for Glenn Tipton's strength as he battles Parkinson's Disease, Priest's role in metal history, their co-headlining tour with Deep Purple and looked to the future when mentioning that he indeed will write a book about his life. Check out the chat below.
Judas Priest is on the road with Deep Purple; the prominent heavy bands when you were starting were Black Sabbath, Led Zeppelin and Deep Purple. What impact did that band have on a young Rob Halford?
We have played with all those bands. When I think about it off the top of my head — remember you and I talked about one special time with playing with Led Zeppelin at the Oakland Coliseum on our first ever American tour? So, there's one check off the list. Obviously, you remember the tours we did with Black Sabbath.
Now at long, long last, we will get to play with Deep Purple. How cool is that? Priest and Purple get to play together for the first time but only in America and some shows in Canada but only this part of the world — what a great night.
Firepower is arguably one of the best Judas Priest albums but Glenn Tipton is unable to fully participate in bringing it to the stage. What positive lesson have you learned throughout the circumstances with making and touring the album?
You know when Glenn is able to come out and he walks out, it is one of the most incredible, powerful and emotional things you will ever witness about this band. Firstly, he's standing there with tremendous challenges in his life. He is living with it, so there he is and then you have this song wrapped around him called "No Surrender," which is definitely at the heart of what Glenn Tipton represents but it is also the heart of what we represent together in heavy metal. We never want to give up, never give in —fight, fight, fight. There's all these great emotions wrapped around that song and wrapped around Glenn. So if he is not with us, he is there in spirits; he is up on the big screen.
Earlier this year Judas Priest were nominated for induction into the Rock and Roll Hall of Fame. Setting modesty aside, what do you think has been the band's most important contribution to music as an art form?
Wow. Let me think. I think off the top of my head we always start the show with, "The Priest is back. Are you ready for the Judas Priest style of heavy metal music?" We still feel that way collectively as a band and how we represented heavy metal music the way we make it. We are still very proud of that accomplishment and it is all over the sounds, songs and messages in Firepower. This is probably why the record is doing so well. It is about everything we love about Judas Priest.
So that's the pride in that and there is the pride of being a part of this great heavy metal community around the world - we have a big heavy metal family and we're united together in heavy metal.
You've been onstage most of your life. What's changed about what it feels like to be in front of an audience?
Well, it's still the same. When I stand on the stage - the big thrill is looking out at across all the different generations of metalheads. The big thrill for us, and I'm speaking for everybody in Priest, is when you see that new metalhead who's barely into their teens and they're coming to see Priest for the first time ever. Of all the bands they've got to look at and listen to, they choose Priest. In that particular show and in that particular moment, that's the biggest rush in the world. That's the thing that is the big change for us; to see how our music, see our metal is as strong and is thriving as it ever was, passing through different generations of metalheads around the world.
From your working-class upbringing to music, sexual orientation and sobriety - there's been so many aspects of your life that could influence and inspire other people. What would convince you to write an autobiography?
[laughs] I was thinking about this last night. I am going to write a book, but I was thinking about things that have happened to me that people don't know about, and this is going to be silly - I was personally blessed by the Virgin Mary in a church in England. If that's not going to make you read my book, I don't know what will. I'll leave it at that; I've had so many beautiful things happen to me over my life. I've led a very, very rich life and I'm still having it and I can't be more grateful than I am right now.
Just thinking about it, I think it has to be done because you've got these knockoffs and you've got people giving their impression and their interpretation, which is all good, but I think when it comes from the source, I think it's really important - some of the greatest books written like [The Dirt] by Motley Crue or Lemmy's book, all of these are books are come from the heart of the matter - the heart of the story. It'll happen one day, Jackie. I'll let you know as soon as it's on the front burner.
You're revered throughout the metal community, even referred to as "the Metal God," but you're incredibly down to earth. What's the source of your humility and good nature?
Again, from people that have inspired me and have influenced me - I always think about my friend Ronnie. I loved to be with Ronnie. I learned a lot from Ronnie. I would always see him interacting with fans - that's so important. It's a privilege to do what we do, we shouldn't forget that. Everything that we have of substance is supported by the fans that come to our shows, buy our records, buy the t-shirt — whatever. These are the most important people in our lives. We can't do this without them.
It's one thing to be creative in the individual sense when I'm in a room with Glenn and Richie [Faulkner] writing songs, but that can only go so far you know. You've got to be able to be fully aware that you can't exist, you can't have a life, you can't strive and pursue the things that you love and do without the fans that look after you. That's just always in my heart and in everyone in Priest and in most bands. Most bands that have longevity understand what I'm talking about when I say these things.
Judas Priest's new album, 'Firepower,' is out now. Grab your copy here and catch them on the road on their co-headlining run with Deep Purple. The tour ends on September 30 and a list of remaining stops can be seen at this location. Find out where you can hear Full Metal Jackie's weekend show here.
66 Most Important Moments in Metal History
10 Amazing Rob Halford High Screams