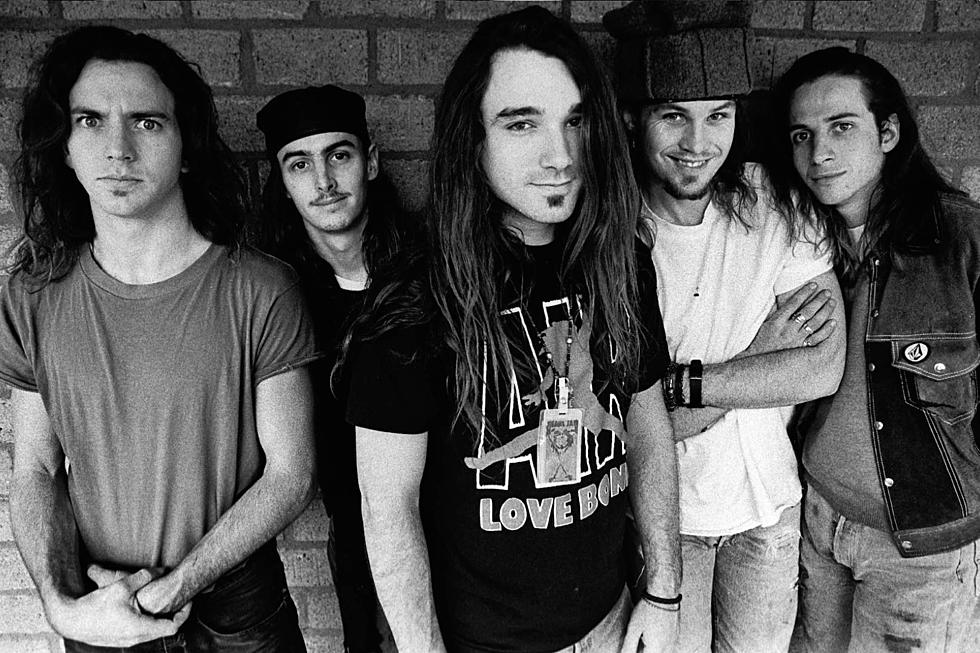 Years' Worth of Rare Pearl Jam Holiday Songs Coming to Streaming Services
Paul Bergen/Redferns, Getty Images
That means a handful of infrequently heard sides from Pearl Jam — which the group issued as part of a series of 7- and 10-inch vinyl singles from 1991 to 2017 (missing only a year in 1994) — will soon be accessible to all listeners' ears. Pearl Jam are kicking off the release with 2004's Stevie Wonder cover, "Someday at Christmas." Listen to it down toward the bottom of this post.
As reported by Rolling Stone, the band is rolling out the songs one at a time as part of 2019's "12 Days of Pearl Jam" campaign. However, it's not known which of the fan club singles will be released next.
Of course, Pearl Jam themselves broke the news this week via their website and various social media outlets that "12 Days of Pearl Jam" is "back this holiday season and we're celebrating with a holiday single each day! Released in 2004, stream 'Someday at Christmas' now."
On its site, the band explained that "twelve of Pearl Jam's holiday singles will be made available for the first time streaming on all [digital service providers] and will be compiled as a special holiday playlist."
Pearl Jam's Ten Club holiday releases started with 1991 single "Let Me Sleep (Christmas Time)" backed with live cut "Ramblings." The series wrapped up with 2017's Rock and Roll Hall of Fame induction version of "Alive" backed with Chuck Berry cover "Around and Around" from the ceremony's rehearsal.
But for longtime listeners, perhaps the most recognizable of the group's holidays singles is 1998's Wayne Cochran cover "Last Kiss." Its popularity prompted a charity compilation inclusion and subsequent commercial release that made it Pearl Jam's highest-charting song on the Billboard Hot 100.
Pearl Jam, "Someday at Christmas" (Stevie Wonder Cover)
See Pearl Jam in the Top 30 Grunge Albums of All Time