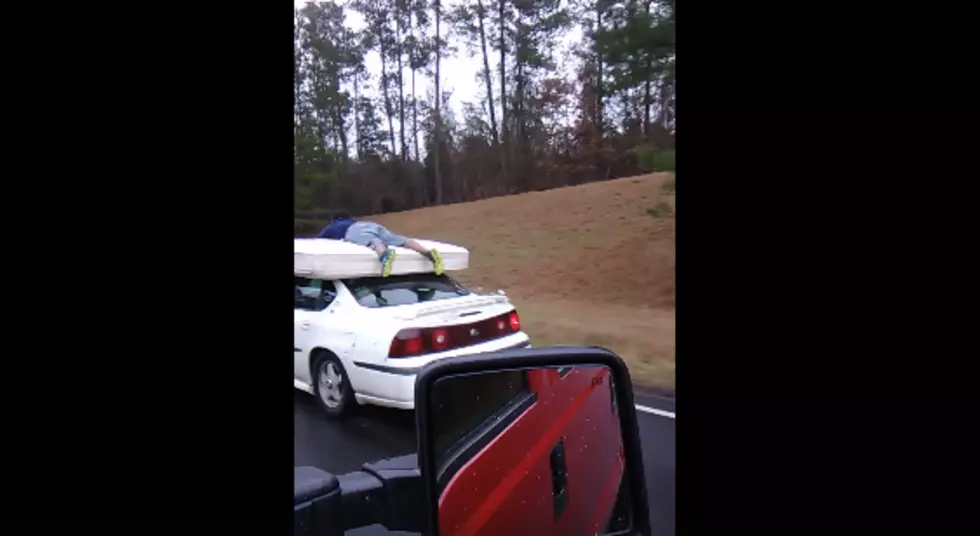 This is What Driving Through Marshall, Texas Looks Like
Jake Leonard via Facebook
There are some things you see on the road that make you tap on the brakes and do a double-take (stop rubbernecking!). A Facebook video posted by Jake Leonard shared such an experience while driving down a highway in Marshall, Texas. In the post, he says:
Ladies and gentlemen, welcome to Marshall, Tx.
Apparently wherever these people found or bought this mattress didn't offer delivery, so they took it into their own hands. Admirable, but also just kind of dumb and dangerous.
It turns out this isn't just an East Texas gig. With over 100,000 views and 2,100 shares at the time of this writing, hundreds of southerners have commented, confirming this is not as rare a sight in the south as you might expect.

And after a closer look, it appears the friendly wave at the end was a "one-finger salute", which prompted a joke about people who ride mattresses tend not to be as classy as you'd hope.
This is certainly not something we condone as it's incredibly dangerous, but hey, only in Texas, right?