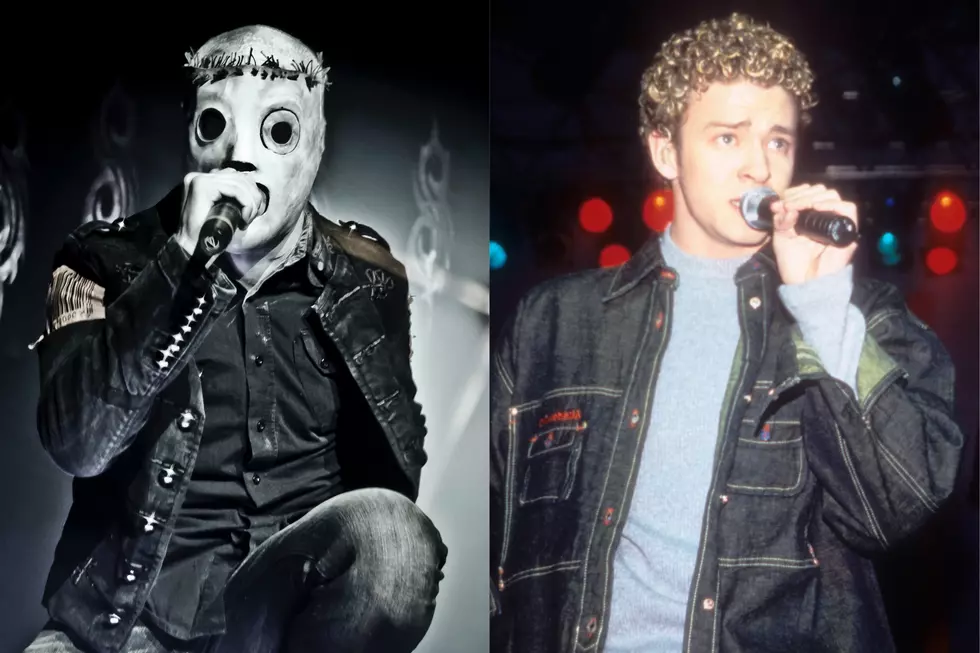 Slipknot Get Mixed Up With *NSYNC in Catchy 'Before I Pop' Mash-Up
Christie Goodwin / Steve Eichner, Getty Images
Slipknot mixed with *NSYNC? Sure, why not? The Internet knows no bounds when it comes to mashing up disparate musical artists. Naturally, YouTube remix star DJ Cummerbund is on the creative cusp with a Slipknot-meets-pop-music amalgamation fittingly titled, "Before I Pop."
But it's not just the smooth vocal likenesses of one of the late 20th century's marquee boy bands indicated in the pop-goes-Knot mash-up. The Rolling Stones, Merry Clayton and even wrestler Randy "Macho Man" Savage somehow crop up in the freewheeling reinterpretation of Slipknot's Grammy Award-winning Vol. 3: The Subliminal Verses single "Before I Forget." Listen to the mind-melting mash-up toward the bottom of this post.
"The world doesn't have enough Slipknot x pop music mashups so I decided to make this," DJ Cummerbund revealed before jokingly thanking *NSYNC members for their creative contributions. "I'd also just like to thank Lance, JC, Chris, and Joey for helping me out with those new background vocals!"
Fans of mash-ups are likely familiar with the YouTube DJ's work. He's the same mixer-upper who's played Dr. Frankenstein with the likes of Metallica and Kanye West, Tool and Justin Bieber, Foo Fighters and Rick James, Disturbed and Stevie Wonder, Korn and Cher, and many, many more.
We'll just go ahead and pretend that Slipknot singer Corey Taylor never said pop music is "insulting". ("I feel like I'm being stung by 1,000 bees all at once," Taylor told Loudwire in 2015. "It's so Auto-Tuned and it's so beat corrected and it's so canned and processed and lifeless.")
Meanwhile, Slipknot are tucked away this week working hard on a new music video for We Are Not Your Kind track "Nero Forte." The group will be touring again soon. Get Slipknot concert tickets here.
DJ Cummerbund, "Before I Pop" (Slipknot + Pop Music Mash-Up)
Every Slipknot Song Ranked