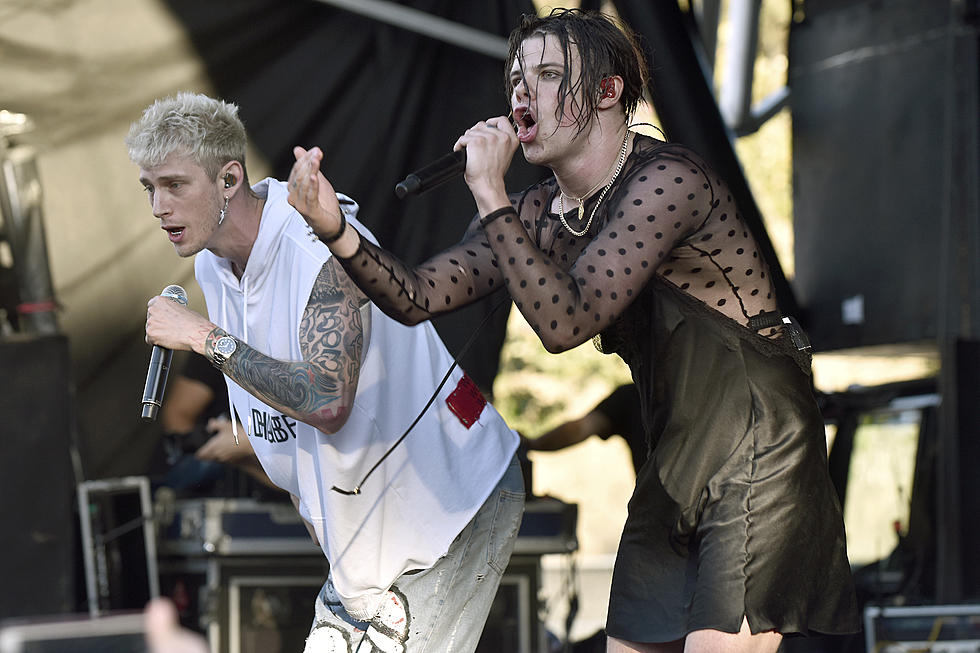 Machine Gun Kelly + Yungblud Honor Shooting Victims With 'Corden' Performance
Tim Mosenfelder, Getty Images
Machine Gun Kelly and Yungblud paid tribute to the victims of recent mass shootings in the U.S. when they appeared on The Late Late Show with James Corden Monday (August 5) to perform their joint single, "I Think I'm Okay." The studio version of the tune — a collaboration between the rapper, rocker and Blink-182 drummer Travis Barker that appears on MGK's latest album Hotel Diablo — was first released in June.
At the end of the emotional performance, both Machine Gun Kelly and Yungblud flipped over their guitars and lifted them above their heads to reveal "Dayton" and "El Paso" written on the back of their respective instruments in tape. The western Ohio city and Texas border town both experienced mass shootings this past weekend (August 3-4). Watch the video down toward the bottom of this post.
Last month, Kelly and Yungblud belted out the song impromptu atop a tour bus for a throng of fans after running through the jam with Barker at the site of a secret show in Los Angeles.
And there may be more where that came from. According to Yungblud, if "I Think I'm Okay" does the right numbers, he's said that he, MGK and Barker will team up on an entire EP of collaborative cuts.
"We've spoken about it," Yungblud revealed in an interview with the NME. "We love working together so much that we've said if the music video gets 100 million views and the song goes platinum then me, Travis and Machine Gun Kelly will do an EP together and potentially a tour."
Both Kelly and Yungblud are spending the summer separately touring the world, while Barker is currently on the road with Blink-182. See Machine Gun Kelly's upcoming tour dates here and Yungblud's here.
Machine Gun Kelly + Yungblud Perform on The Late Late Show With James Corden
Best Rock Songs of 2019 ... So Far