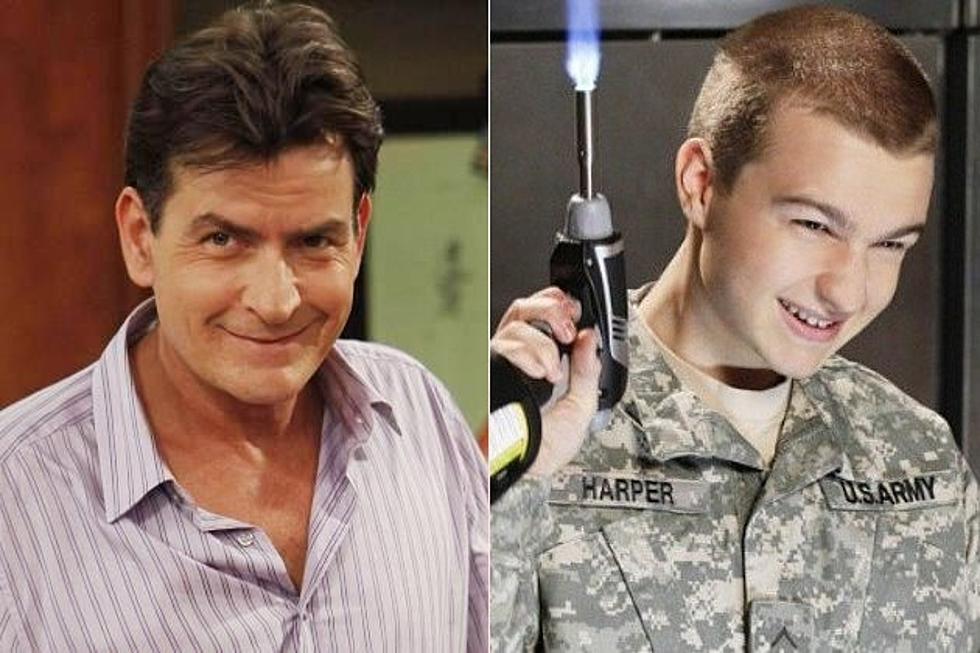 Charlie Sheen Invites Angus T. Jones to Join 'Anger Management'
FX / CBS
It's the story that just keeps giving!  Like we mentioned yesterday when disgraced 'Two and a Half Men' and current 'Anger Management' star Charlie Sheen offered yet another comment on 'Men' star Angus T. Jones' religious-fueled "Filth" rant against the CBS sitcom, it's unlikely Jones will risk rocking the boat any further.  However, Sheen now hopes to coerce the young star to join the dark side leave 'Men' behind as he once did, and join him on 'Anger Management!'  Would Jones accept the offer?
For the moment, the dust seems to have settled on 'Two and a Half Men,' as series star Angus T. Jones issued his very public apologies for the religious rant that appeared on website "Forerunner Chronicles," and so far CBS hasn't given any indication it plans to void the star's lucrative $350,000 contract.  However, ABCNews reports the fellow disgraced 'Two and a Half Men' star Charlie Sheen has extended an open invitation for Jones to join him on Sheen's FX series 'Anger Management!
"My former nephew is welcome at the Goodson Anger Management home anytime," Sheen said of Jones.  Considering that 'Men' isn't likely to field an eleventh season, and FX has set a January debut for the first of an additional 90 episodes of 'Anger Management,' that invitation could be on the table for a long time.
Still, it isn't likely Jones would accept the invitation even if 'Two and a Half Men' closed of its own accord, considering half the appeal of Sheen's FX series lies in basic cable's freedom to display even more "filth" than 'Two and a Half Men' ever could.
Will the story ever end?  Will Angus happily return to 'Two and a Half Men,' and Charlie Sheen have nothing to say on the matter?  Will someone speak up for poor Jon Cryer?  Leave your thoughts in the comments below!
And because the parodies are still funny for the moment, enjoy Matthew Perry's take on 'Go On!'