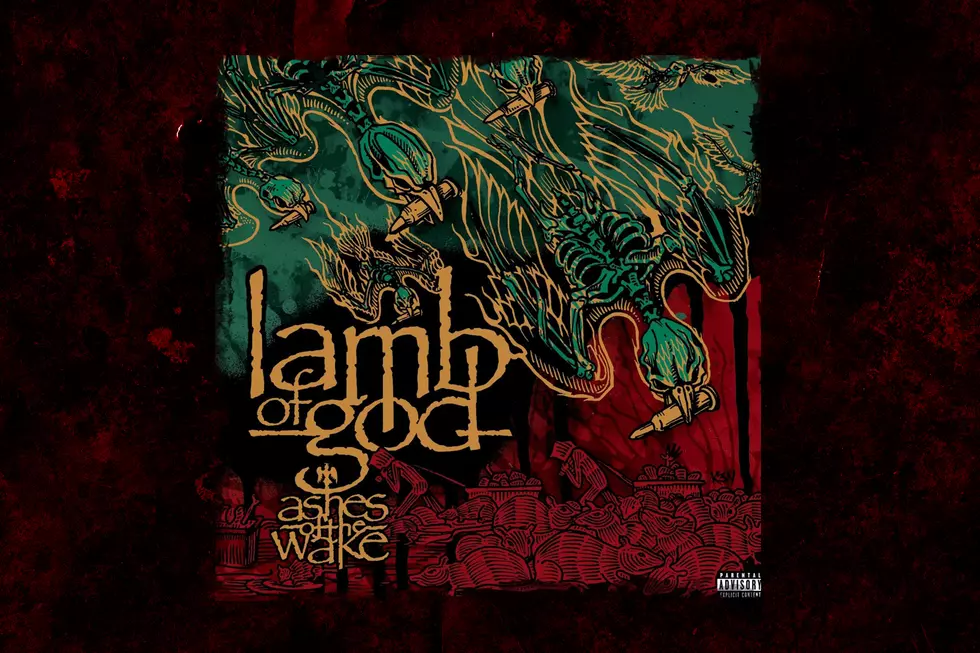 19 Years Ago: Lamb of God Release 'Ashes of the Wake'
Epic / Prosthetic
On their fourth album, Ashes of the Wake, which came out Aug. 31, 2004, Lamb of God made the leap from heroes of the underground to contenders for the new American metal throne.
Produced by Machine (Pitchshifter, Every Time I Die, King Crimson), who pushed Lamb of God to reach a new level of commercial viability without sacrificing their heaviness or artistic credibility, Ashes of the Wake is both bludgeoning and musically challenging.
At the same time, the disc blends a variety of minor-key licks reminiscent of Slayer with staccato riffs that have more in common with Pantera, ensuring that the songs remain memorable, even when crafted within a framework of melody-free vocals, complex, double-bass beats largely informed by Meshuggah and rhythms that shift just as they start grooving.
Lamb of God, "Laid to Rest"
Songs like "Laid to Rest," "Now You've Got Something to Die For" and the instrumental title track (which features guest guitar leads by Testament guitarist Alex Skolnick and ex-Megadeth axeman Chris Poland) are simultaneously angular and crushing, setting the stage for songs about the brutality of war, the danger of oppression and the consequences of not challenging authority.
For Lamb of God, Ashes of the Wake provided an opportunity to showcase their thrash and melodic death metal influences and break out of the metalcore category critics tried to push the band into. "I think it's important for us to create a legacy for this band, and I don't want that legacy to be in association with anyone else," drummer Chris Adler told me in 2004. "In our minds, we're a cut above the rest of the bands that are out there right now, and we feel like we put a whole lot more into our music than some of the bands we have been compared to."
Political commentary was nothing new for vocalist Randy Blythe, who grew up enamored with the ferocity and rhetoric of hardcore. But while he had addressed capitalism, greed and war on the band's first three albums, Ashes of the Wake was more focused and coherent, taking direct aim at the U.S. administration and its policies during the war in Iraq.
"Ashes of the Wake" includes harrowing quotes by former Marine Staff Sergeant Jim Massey after he returned from battle and "Omerta" opens with an insightful spoken word passage by Blythe about honor in battle: "…a wounded man shall say to his assailant, 'If I die, you are forgiven. If I live, I will kill you.' Such is the rule of honor."
Lamb of God, "Omerta"
"I always like to write about whatever's I'm thinking about and, at the time, I think the war was on pretty much everyone's mind," Blythe said. "Politicians were saying one thing, but it didn't take a lot to see that what was really going on was something else entirely. And at the same time, all these soldiers were being led into a situation they didn't sign up for."
Thanks to the skillful twin guitar attack of Mark Morton and Willie Adler and the multifaceted barrages of drummer Chris Adler, Ashes of the Wake demonstrated that Lamb of God were as talented as they were heavy.
Still, tracking precise passages without having them sound antiseptic was no easy task. "We definitely pushed ourselves to the limit making the record," said Morton. "But you know what, I'm glad working with Machine wasn't stress free. I want the guy I'm working with to care and disagree with me and fight for what he thinks is right. If you've got someone that just goes along with you, that means he doesn't give a shit. There should be conflict and resolution."
Lamb of God, "Now You've Got Something to Die For"
Lamb of God wrote and recorded Ashes of the Wake during a few short months in 2004 after returning from touring for their 2003 album As the Palaces Burn. Their new label Epic wanted an album right away, leaving the group little time to analyze what it was doing.
"We had to respond quickly, there was no other way," Morton said. "We were under a lot of pressure because of the time factor. We had just gotten off a record we hadn't really finish touring for, and before we knew it we were back in the studio writing songs again. And we managed to make a great record that stands up for itself."
The band recorded drums at Water Music Studios in Hoboken, New Jersey, then tracked guitars and vocals at Sound of Music in Richmond. Though the scathing lyrics and unforgiving blend of jagged thrash and fiery Swedish death metal styles were more extreme than most anything released on a major label, Ashes of the Wake deservedly struck a nerve with fans, debuting at number 27 on the Billboard album chart. By August, 2010 the record had sold 398,000 copies and remains the band's top seller, shifting over 400,000 units in 11 years.
"As hard as we worked on the record, I feel like it all paid off," Morton said. "It just seems like with everything we do we keep getting better. We're working together better, we're playing better, the songs are better and as long as we've got that momentum going it's fun to be a part of something like that."
Loudwire contributor Jon Wiederhorn is the author of Raising Hell: Backstage Tales From the Lives of Metal Legends, co-author of Louder Than Hell: The Definitive Oral History of Metal, as well as the co-author of Scott Ian's autobiography, I'm the Man: The Story of That Guy From Anthrax, and Al Jourgensen's autobiography, Ministry: The Lost Gospels According to Al Jourgensen and the Agnostic Front book My Riot! Grit, Guts and Glory.
The 66 Best Metal Songs of the 21st Century