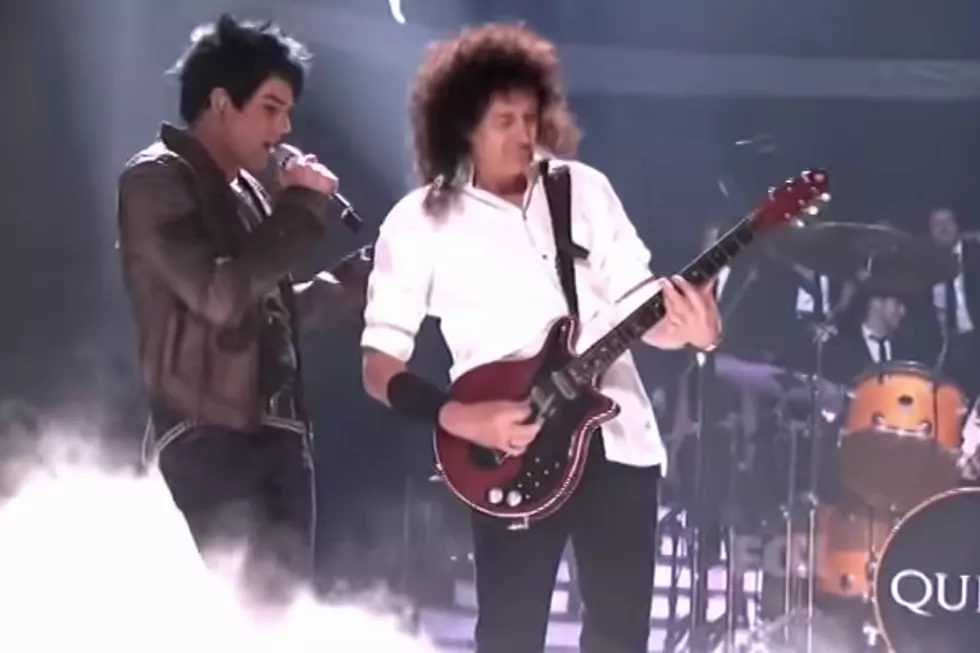 10 Years Ago: Queen Meet Adam Lambert on 'American Idol'
Fox
The guitarist wasn't watching, but the performance quickly made its way to him.
"That [audition] rippled around the world," May said at a 2014 press conference. "I had thousands of people send me the video, saying, 'You have to see this guy!' So it immediately put [him] in there."
With hindsight, it's easy to see how Queen's appearance on Idol's season finale on May 20, 2009, was a ploy by the band to get a closer look at Lambert. But, as May said in the 2019 documentary The Show Must Go On, the producers invited them on the show. Besides, with the amount of lead time needed to make this happen, there was no guarantee Lambert would even be one of the finalists.
Watch Adam Lambert's 'American Idol' Audition
So was it a coincidence or fate that brought Queen face-to-face with Lambert that night? It's impossible to say. But Lambert believes his rendition of "Bohemian Rhapsody" played at least a small part in the producers' decision.
"If someone had said to me, 'By the way, you're going to be performing with them in Madison Square Garden in five years,' I would have laughed in their face," Lambert said in 2014. "This is so surreal, and I'm glad I sang that song for my audition because maybe it planted a seed. I think because of that audition that's one of the reasons at the end of the show they said, 'Okay, let's think of some things to do for the finale.' And when I heard that Queen were going to be onstage, it was a full-circle moment then. And now the circle's huge."
Queen appeared on the program close to the end, before anyone knew whether Lambert or Kris Allen would be crowned the winner. The contestants traded lines on "We Are the Champions" and, even though Allen became that season's champion, it's clear when watching the video below which singer would get May's vote.
"They're both really good singers," May recalled. "But there's some kind of chemistry already between us and Adam. It was just instant."
Watch Queen Perform 'We Are the Champions' With Adam Lambert and Kris Allen
Rumors swirled immediately after the show that Queen had already signed up Lambert, but while May said he was definitely interested in the idea of the young singer joining the band, they hasn't even had time to discuss it.
"Amongst all that furor, there wasn't really a quiet moment to talk," May told Rolling Stone a couple of days later. But he and drummer Roger Taylor were "definitely hoping to have a meaningful conversation with him at some point. It's not like we, as Queen, would rush into coalescing with another singer just like that. It isn't that easy. But I'd certainly like to work with Adam. That is one amazing instrument he has there."
Queen had to wait another two and a half years for their next chance to work with Lambert. Six weeks after they met, Lambert embarked on a tour with the other Idol Top 10 finishers that kept him busy through the rest of that summer. Then he released his debut album, For Your Entertainment, in November, followed by his Glam Nation world tour that lasted from June to December 2010.
In November 2011, Queen and Lambert found themselves in each other's orbits again when they were both booked on the MTV Europe Music Awards in Belfast, where Queen were presented the Global Icon Award.
"We all thought it would be a blast to appear together, just to see what happened," May wrote in Queen in 3-D. "So we did a couple of days of rehearsal and then, totally live (as we always are), on British TV we played 'The Show Must Go On,' 'We Will Rock You' and 'We Are the Champions.' The response was stupendous. It was pretty much unanimously 'this works.' So immediately we started thinking, 'Let's try some gigs, just to see what happens.'"
The Best Song From Every Queen Album