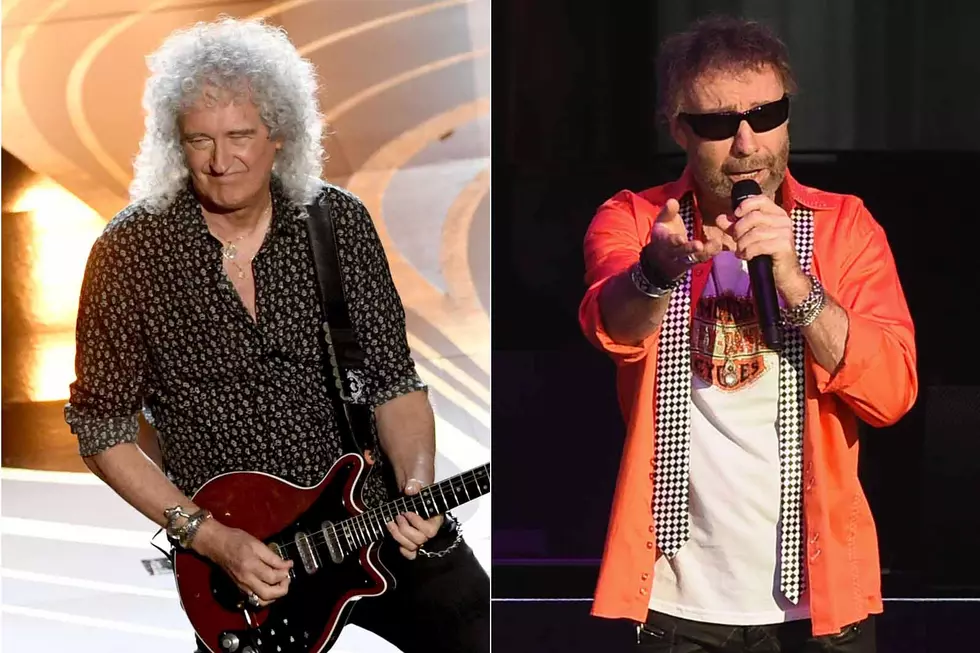 Queen Split With Paul Rodgers Because 'He Was His Own Man'
Kevin Winter / Rick Diamond, Getty Images
The collaboration resulted in 2008's The Cosmos Rocks, but they parted ways shortly after the promotional cycle for the album concluded because, as drummer Roger Taylor said, his vocal style wasn't right for the band and Rodgers "was his own man."
Made in Heaven from 1995 was mostly made up tracks recorded by Mercury in his last sessions and some outtakes that the band fleshed out. After a decade of one-off projects with guest stars like Elton John and Luciano Pavarotti, as well as bassist John Deacon's retirement, May and Taylor wanted to continue working but weren't sure how to proceed. Then Rodgers entered the picture.
"Even though we were proud of what we had done, we didn't want to go out there and be Queen again without Freddie," May said. "And it happened almost by accident, at an awards show I played with Paul Rodgers, who's a hero of ours. I remember coming offstage and Paul's lady said, 'Oh, you guys really seem to have a great chemistry, all you need is a drummer.' And I went, 'Well, I think I know a drummer.' We ended up going all around the world a couple of times with Paul."
Even though Rodgers had a long history with supergroups, including Bad Company, the Firm and the Law, Queen soon realized Rodgers wasn't a good fit.
"He was his own man," Taylor said. "He belonged in the blues-soul field, at which there were no better. Our stuff is a little too eclectic probably, so I think that's why that came to an end."
Their second, and last, tour with Rodgers ended in late 2008, and Lambert entered public view on American Idol a few months later. Queen first played with Lambert on the Idol season finale that spring, followed by an MTV appearance together in November 2011. Then came six full shows in Europe in the summer of 2012.
On the eve of their first North American tour with Lambert, May admitted that even though the new singer didn't come from the same '70s rock culture as Rodgers, he was a better match for them.
"I think the styles match more closely in a sense," May said. "But we had a great time with Paul no doubt about it and it kind of stretched it to a new place and I think a thoroughly good experience. But Adam is really like us ... he has many, many colors, so we can explore some of those strange excursions that Queen likes to."
Queen Albums Ranked