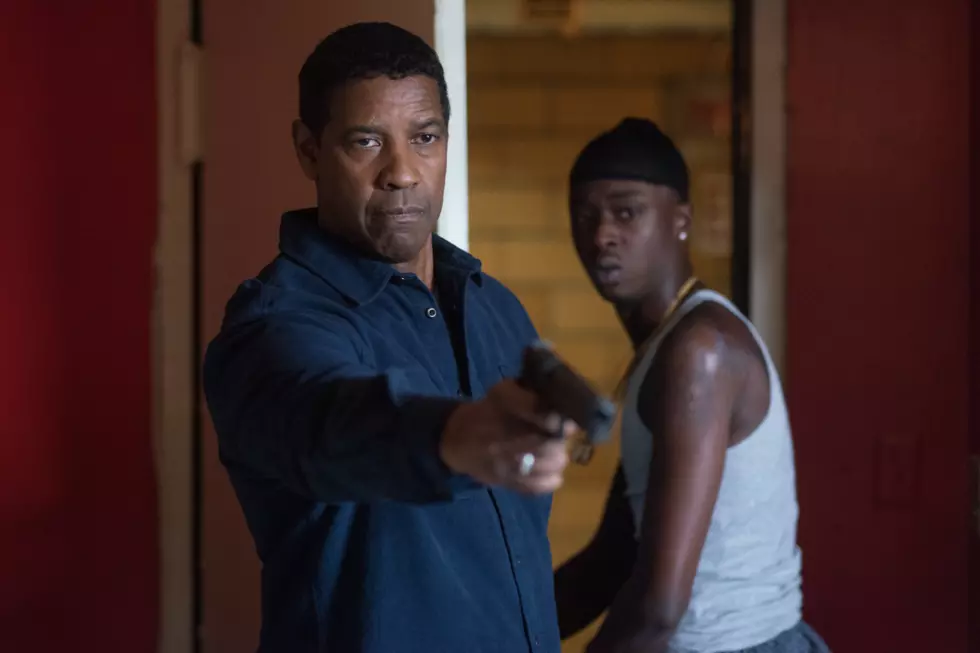 Weekend Box Office: 'The Equalizer 2' Takes Out 'Mamma Mia! 2'
Sony
| | | | | |
| --- | --- | --- | --- | --- |
| | Film | Weekend | Per Screen | Total |
| 1 | The Equalizer 2 | $35,825,000 | $10,574 | $35,825,000 |
| 2 | Mamma Mia! Here We Go Again | $34,380,00 | $10,365 | $34,380,00 |
| 3 | Hotel Transylvania 3 | $23,150,000 (-47%) | $5,425 | $91,089,268 |
| 4 | Ant-Man and the Wasp | $16,126,000 (-44%) | $4,268 | $164,624,292 |
| 5 | Incredibles 2 | $11,520,000 (-29%) | $3,641 | $557,335,440 |
| 6 | Jurassic World: Fallen Kingdom | $11,005,000 (-32%) | $3,255 | $383,904,505 |
| 7 | Skyscraper | $10,960,000 (-56%) | $2,868 | $46,749,120 |
| 8 | The First Purge | $4,980,000 (-46%) | $2,136 | $60,191,365 |
| 9 | Unfriended: The Dark Web | $3,495,000 | $2,261 | $3,495,000 |
| 10 | Sorry to Bother You | $2,823,000 (-32%) | $2,689 | $10,252,204 |
Somehow, Cher singing ABBA hits wasn't enough for audiences. The Mamma Mia! sequel was expected to top the box office, with estimates putting its debut at $41 million, but the musical fell just shy of the number one spot with $34 million – still more than the first film's $27 million opening. Washington's first sequel stole the weekend with $35 million, making The Equalizer 2 his third best opening ever, following American Gangster and Safe House. It opened just ahead of the first film, which debuted at $34 million.
It's certainly been a good summer for sequels. Last weekend's box office champ, Hotel Transylvania 3 slid down to the third spot with a 47 percent drop, but is still slightly ahead of the last film in the monster series. In its third weekend, Ant-Man and the Wasp dropped 44 percent, but has collected $164.6 million so far, more than the first Paul Rudd movie at this point, which earned $132.3 in its third weekend. Incredibles 2 has now collected $557 million in six weeks, while Jurassic World: Fallen Kingdom, coming in below it in the sixth slot, has pocketed $383.9 million in five weeks.
It was a pretty scary weekend for BH Tilt's sequel Unfriended: Dark Web. The horror film opened with a paltry $3.4 million, while its 2015 predecessor debuted at $15.8 million. And it continued to be a rough summer for The Rock. Skyscraper, just one of two non-sequels on this weekend's top 10, continues to die slowly, dropping 56 percent from number three to number eight in just its second weekend.
But speaking of original movies, it's exciting to see Boots Riley's Sorry To Bother You still holding out strong here. In its third weekend, the Sundance breakout expanded to roughly 250 more theaters and has so far earned $10.2 million total. Other Sundance indies continue to perform well this summer, with the Daveed Diggs-led Blindspotting opening at $332,500 and earning a per screen average of $23,750. In its second weekend, Bo Burnham's Eighth Grade took in $794,370 in just 33 theaters.
Gallery - The Biggest Second Weekends in Box-Office History: