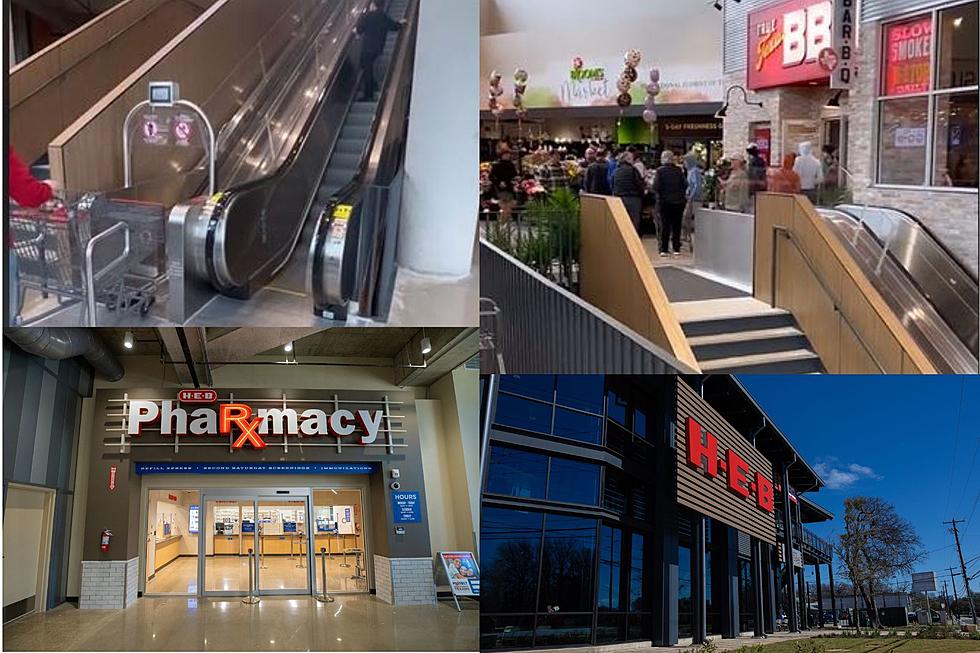 VIDEO: Take a Tour of the Amazing New HEB in Austin
TikTok heb-obsessed
Just last week, HEB opened its new store in the Austin area and it is absolutely incredible.  This two-story HEB features an underground parking garage, multiple escalators, BBQ and Pizza Restaurant, and escalators, not only for people but for shopping carts as well. This new store looks like a mall inside!  Oh yeah, did we mention that there is a wine-sampling area? Thanks to TikTok user heb-obsessed, we get to take a video tour of the new HEB
---
---
THE FIRST FLOOR:
On the first floor, this location features the SouthFlo Pizza restaurant and the Lake Austin's Coffee Spot, a coffee shop that serves specialty coffee, breakfast tacos, and pastries and baked goods made daily at the store's in-house bakery. SouthFlo Pizza serves NY-style, made-to-order pizzas made from the freshest ingredients that start with artisan dough and finish off with a special herb/cheese blend.
THE SECOND FLOOR:
On the second level accompanying the sales floor is a True Texas BBQ restaurant, which was named best barbecue chain by Texas Monthly. This location, which includes a full bar and indoor and outdoor seating, is the third True Texas BBQ restaurant in Austin. Not only do you get BBQ  you get a range of Texas craft brews, including beers from several Austin breweries, and cocktails that include draft cocktails such as Old Fashioned and Margarita and frozen cocktails.
THE PARKING GARAGE:
Structured underground parking will ensure the store has a welcoming, pedestrian-friendly perimeter with wide sidewalks to encourage walking and biking to the store as well as the street-level landscape that softens the store's impact on the neighborhood. With a second-level sales floor, customers will have access to three elevators, an open stairway, and multiple escalators and cart escalators.
An actual full-size restaurant inside of HEB, on the second floor.
This looks like the inside of a mall
It appears to be an HEB with no parking, oh wait, there is an underground parking garage
Not only the pharmacy but a coffee shop as well.
The pharmacy is totally separate from the rest of the store.
LOOK: The 10 largest product recalls of the last decade
Estey & Bomberger, LLP compiled a list of the top 10 product recalls since 2007, ranked based on the number of product units recalled in the U.S.
15 Iconic Retail Stores That Don't Exist Anymore (But We Totally Miss Shopping At)