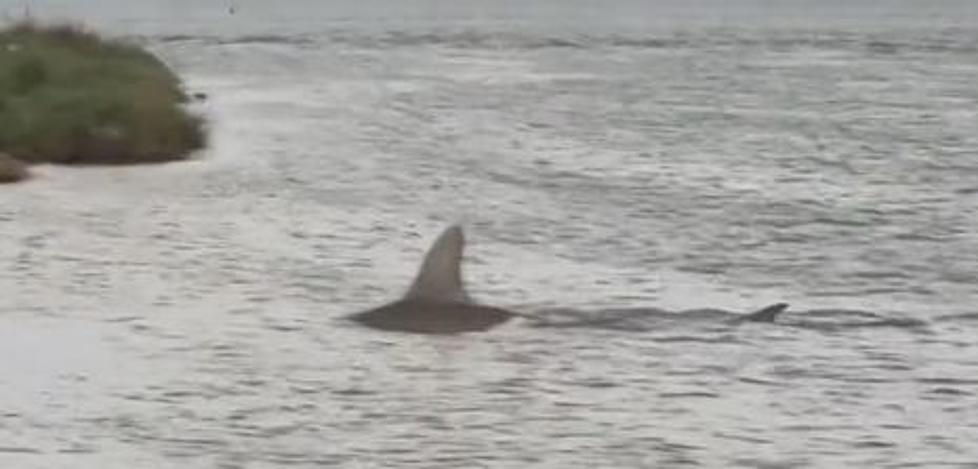 VIDEO: Hammerhead Shark Swims to Shore in Galveston
fishingngigging TikTok
Earlier this week, a video of a hammerhead shark swimming in the bay off San Luis Pass in Galveston County was posted to TikTok and has gone viral.  According to fox26houston.com, Jason Schilling and his friends had been fishing last Monday morning near San Luis Pass. At some point, Jason says he heard some splashing near their spot just north of the San Luis Pass bridge.  That's when Jason says he saw a large hammerhead shark swimming with its head above water.
"I hear this big splash behind me, it's a big hammerhead shark sticking out of the water," said Schilling. He then grabbed his phone and started recording.  In his cellphone video, the shark is swimming and thrashing in only about knee-deep water.  Schilling says the hammerhead was massive. The original TikTok was posted by fishingngigging
---
---
VIDEO: Texas Woman Hilariously Explains Texas Speed Limits Perfectly
This is so true when it comes to Texas Speed limits!  I mean for many Texans, the speed limit is a mere suggestion. I mean, how many times have you been going 80 on the Freeway in Houston and someone passes you like you are standing still? The toll roads with a speed limit of 85? I feel if you are not going 100 MPH, you are not driving fast enough. SEE THE VIDEO BELOW.
However, it's the final comment about not speeding through small towns that really hit home. I mean, my dad used to tell me, 'you NEVER speed through Kendelton." Anyone else?  I also do not dare speed through Cuero or Refugio, I have gotten multiple speeding tickets in Cuero!
---
---
Top Ten Most Dangerous Cities in Texas