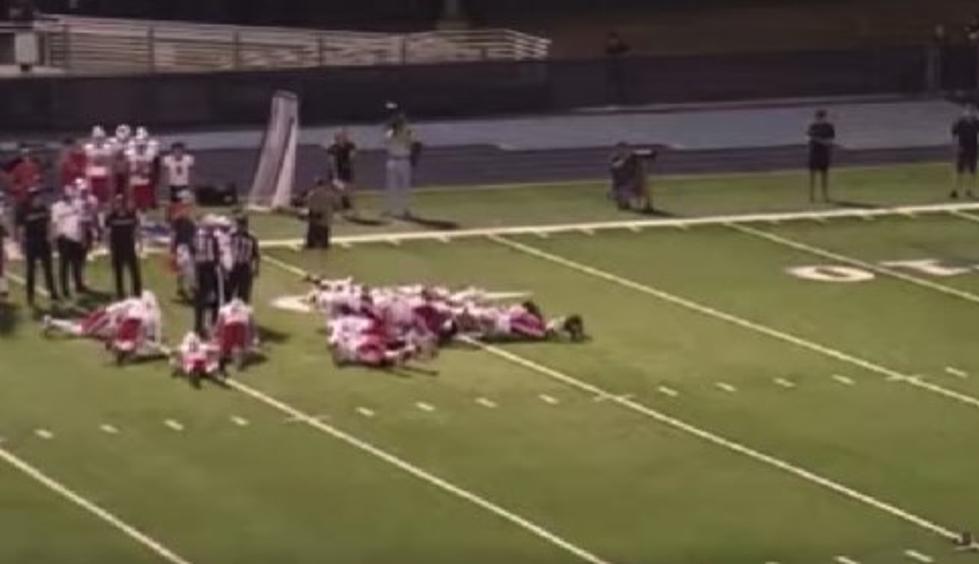 TX HS Football Team Humbled by Coach for Bad Sportsmanship[VIDEO]
Look Livestreams Facebook
Sometimes during the heat of any sports game, passion for the game and competitiveness take over. Sometimes a line is crossed between competitiveness and bad sportsmanship. This was the case in earlier this year during a North Texas High School game featuring Melissa High School and China Spring. At one point of the game, Melissa was up 34 - 7.
Something happened shortly before the below video, whatever it was had Melissa's head coach fuming, not by the officiating, but by the acts of poor sportsmanship by his own team.  So he took action immediately and made his team do up-downs on the field to show his team that their actions would not be tolerated. You can also hear the commentary in below video followed by the applause of the crowd on both sides of the stand in support of the coach's decision.  Melissa is currently ranked #1 in Division 2 5A and won the game 63-33.
What a teaching moment from this coach. He understands that being a football coach is so much more than what happens on the field.  All the comments support this coach's actions. What do you think?
---
---
Fancy Texas High School Stadiums are popping up all over the state and here is another one that has just gone viral. Melissa High School in Melissa, Texas which is a town with a population of over 16,000 has just opened up a $35 million High School Football stadium. The school's enrollment is just over 1300 people. Pictures of the new stadium have gone on many different social platforms! Check out these photos thanks to Texas Football Life on X. Melissa is located just north of Dallas
---
---
THIS HIGH SCHOOL JUST ALSO OPENED UP IN NORTH TEXAS: A couple of weeks ago, was the students' first day of school at the new Walnut Grove High School campus in Prosper, Texas, located North of Dallas. This high school facility is more impressive than some college campuses. The gym looks like a college court, the food court looks like a mall. They have an indoor practice for football and the weight room is on another level. The photos are courtesy of Texas Football via X THIS IS A HIGH SCHOOL GYM: 
FOOR COURT OR HIGH SCHOOL CAFETERIA? 
INDOOR PRACTICE FACILITY:
THE WEIGHT ROOM FACILITY:
---
---

MOST EXPENSIVE HIGH SCHOOL STADIUM IN TEXAS:
The most expensive high school football stadium in Texas can be found in KATY! Two years ago Legacy Stadium opened with a price tag of 72 million dollars.  The capacity is 12,000 and while there are bigger stadiums, capacity-wise, and bigger overall stadiums.  The amenities are what set this stadium apart.  Just check out that press box and VIP area up top.

The stadium is equipped with a large event space that overlooks the field.  The stadium also features luxury boxes for corporate sponsors.  Maybe $72 million might be a bit much, but then again, high school football is a way of life in Texas.
SEE PHOTOS: BIGGEST HIGH SCHOOL FOOTBALL SATDIUMS IN TEXAS, BY CAPACITY
Enter your number to get our free mobile app