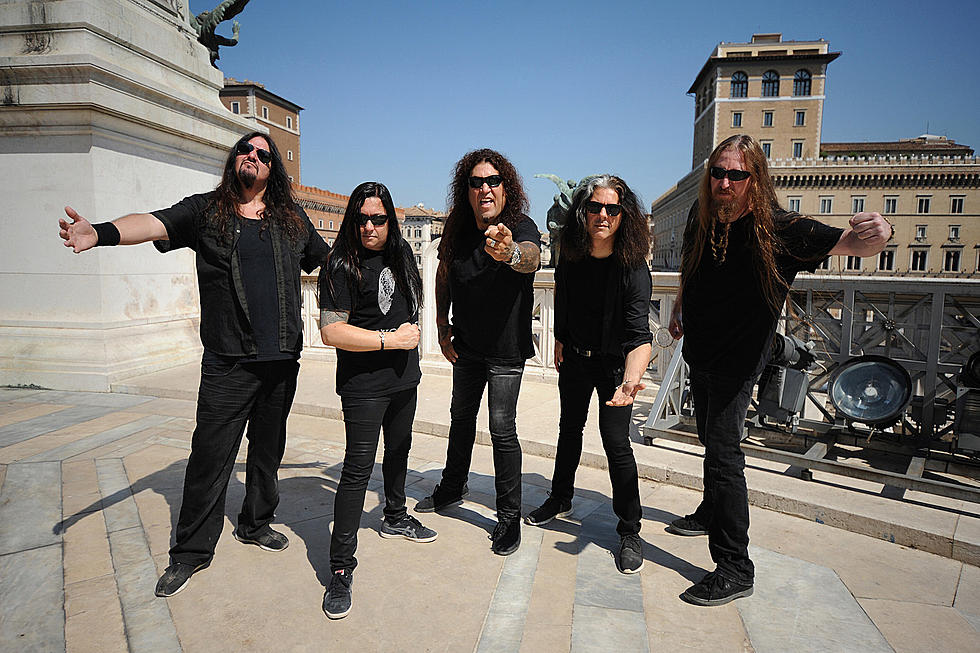 Testament Will Release New Album in January 2020
Gene Ambo
Testament's 12th studio album will be one of the first metal releases of the 2020s. In a new interview, guitarist Eric Peterson confirmed the new release from Testament will be out in January.
Since 2008's The Formation of Damnation, Testament have been releasing new albums every four years like clockwork. The thrash legends' newest collection of songs will be mixed by Andy Sneap, who is currently Judas Priest's touring guitarist, once Sneap gets home from touring with the metal gods.
"The day before we got on the plane [to tour Europe], we just finished recording all the tracks … We don't have a name yet, but it's gonna come out in late January 2020," Peterson said at a Hellfest press conference. "Musically, it's a lot more thrash, I think, and more old school. I don't wanna say Mercyful Fate, but that kind of guitar harmonies and stuff like that. And lyrically, it's probably a little bit more storytelling, kind of evil shit, I guess. The label told us to write something evil."
"It's definitely faster than the last record," adds vocalist Chuck Billy. "But I think the way we've been writing the last couple of records, we work a long time on the riffs, but when we get in the studio is when we really start putting the pressure on ourselves, and I think we've been working better under pressure. It's not my favorite time of year when it's time to write lyrics and get prepared to do the record, so it gets tough. But it really drives us to really reach down and do something."
"We have some really good stuff on it — some good thrash, some good melodic stuff, some good melodies on the vocals. So there's a little bit of everything."