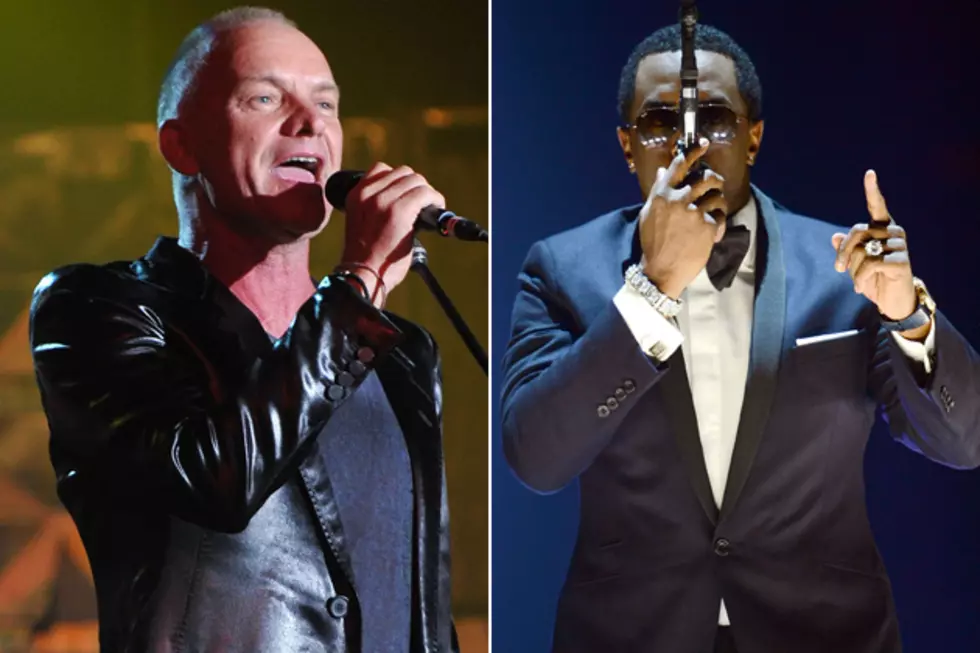 Sting Earns $2,000 a Day Because Puff Daddy Didn't Say 'Please' Back in 1997
Larry Busacca / Ethan-Miller, Getty Images
It's safe to say that Sting never has to work again if he doesn't want to. On top of all his income from touring and his incredibly popular back catalog, a new article reveals that he earns $730,000 a year — $2,000 a day — in royalties from only one song, 'Every Breath You Take.'
Celebrity Net Worth gets into the fiscal story of the Police's massive 1983 hit. Its success had already netted Sting enough "mailbox money" over the years, but in 1997 it was appropriated by Puff Daddy for 'I'll Be Missing You,' his tribute to slain rapper Notorious B.I.G. Its melody was used in the chorus, sung by Biggie's widow, Faith Evans, and Andy Summers' ominously sinuous guitar part was sampled.
However, Puff Daddy never asked permission from Sting for the sample, which would have probably allowed him to pay out just 25 percent of the publishing royalties. Instead, due to copyright law, Sting was able to lay claim to 100 percent of them. The track sold seven million copies and won a Grammy for Best Rap Performance by a Duo or Group.
Left out of all this was Summers, who created the defining guitar part during the sessions and is the only member of the Police heard on Puff Daddy's song. But, as is so often the case, he did not receive a co-writing credit on 'Every Breath You Take.' A little more than a year ago, Summers called his lack of compensation for Puff Daddy's track, "the major rip-off of all time," adding that "it's very flattering. I guess everybody likes it…Stewart [Copeland]'s not on it. Sting's not on it. I'd be walking round Tower Records, and the f—ing thing would be playing over and over."
How 100 of Rock's Biggest Bands Got Their Names