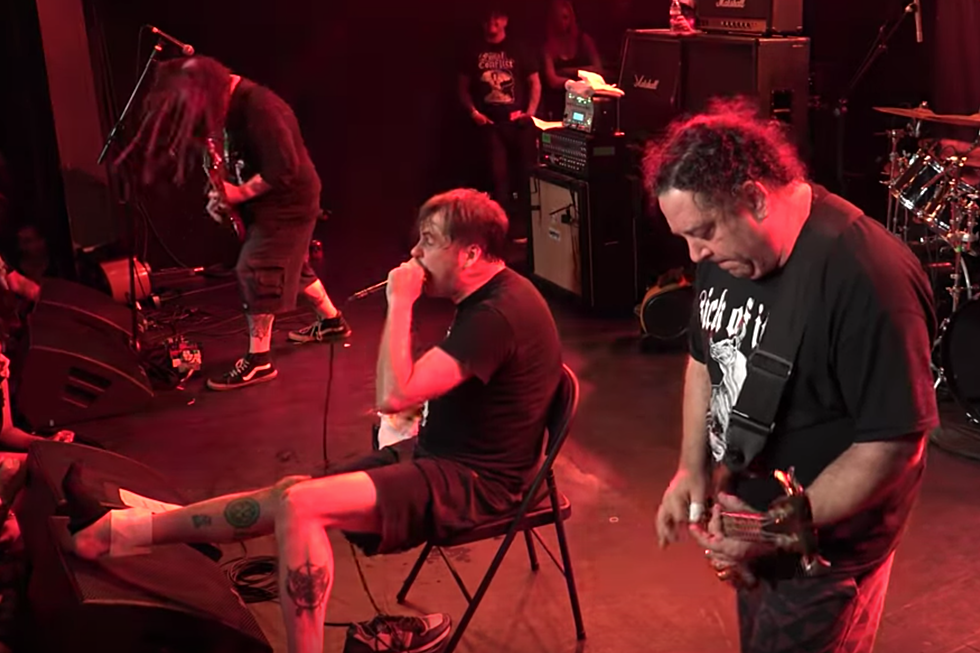 Napalm Death's Barney Greenway Injures Ankle Onstage, Finishes Tour While Sitting
YouTube: sexthrash69
Napalm Death vocalist Barney Greenway has taught metalheads a lesson in perseverance. Barney injured his ankle while on Napalm Death's recent tour, forcing the erratic barker to sit in a chair while performing. Barney made the best of it, however, thrashing in his seat for full shows and completing the entire run of dates.
Napalm Death toured the U.S. with Municipal Waste, Sick of it All, Dropdead and Take Offense. According to Brooklyn Vegan, Barney hurt his ankle during Napalm's set in New York City, though he was able to finish the show. Footage from the gig shows the singer's ankle taped up while he hobbles on the injury.
Having traveled across the country since injuring himself, Barney finished the tour in Los Angeles while sitting on a metal folding chair. Pro-shot footage of the entire concert has been uploaded to YouTube.
The legendary grind band have faced many challenges as of late, with bassist Shane Embury unable to make this latest tour for reasons beyond their control. Embury reassured fans that his health has nothing to do with his inability to perform. Napalm have also gone without longtime guitarist Mitch Harris since 2014, as the musician has remained on hiatus.
Check out footage from Napalm Death's fall tour above.
Top 25 Extreme Metal Albums of All Time