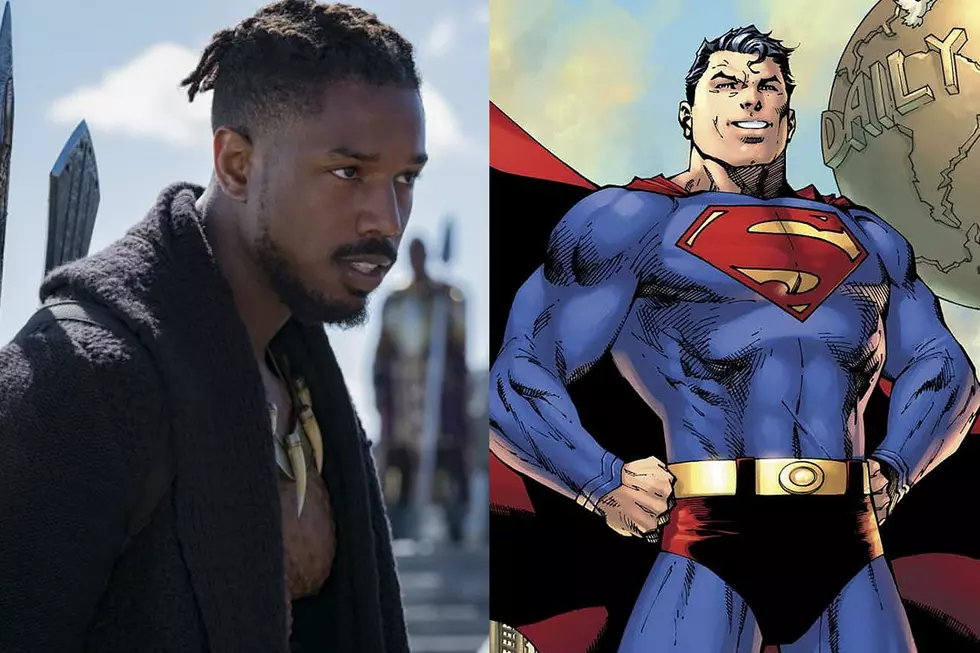 Michael B. Jordan Pitched a 'Superman' Movie to Warner Bros.
Marvel/DC Comics
He's played the Human Torch. He's played Killmonger. Is a crossover into the DC Comics Universe next for Michael B. Jordan?
Variety has a new, extensive report on the state of Warner Bros. slate of DC Comics movies in the wake of Joker's phenomenal success. It provides updates on a slew of products, including Birds of Prey (which had reshoots recently) and Green Lantern Corps (a script is due soon). The most intriguing tidbit, though, might be the state of the Man of Steel in the wake of the failure of Justice League. According to their report, one star angling to take over the franchise is none other than Fantastic Four and Black Panther star Michael B. Jordan. They write:
...there was a meeting with Michael B. Jordan earlier this year with the "Creed" star pitching Warners on a vision for the character. However, Jordan isn't ready to commit to taking on the project since filming doesn't seem likely to happen for several years and he has a full dance card of projects.
That last sentence certainly tosses some water on the Johnny Storm-sized fire here, as it sounds like even if Warners is interested in Jordan's ideas, they couldn't be executed for several more years. In fact, Variety claims fans should not expect any kind of Superman film "before 2023." There are currently no director or screenwriter attached to the character.
Jordan would certainly be a bold choice for the role, and one that would require some rethinking of the character. But it's hard to think of too many actors more qualified to play Superman than Michael B. Jordan. He's shouldered massive franchises like Creed, and he's got an obvious love of comics and superheroes. We're already imagining a crossover between his Superman and Hooded Justice on HBO's Watchmen.
Gallery — Actors Who've Appeared in Marvel and DC Movies: