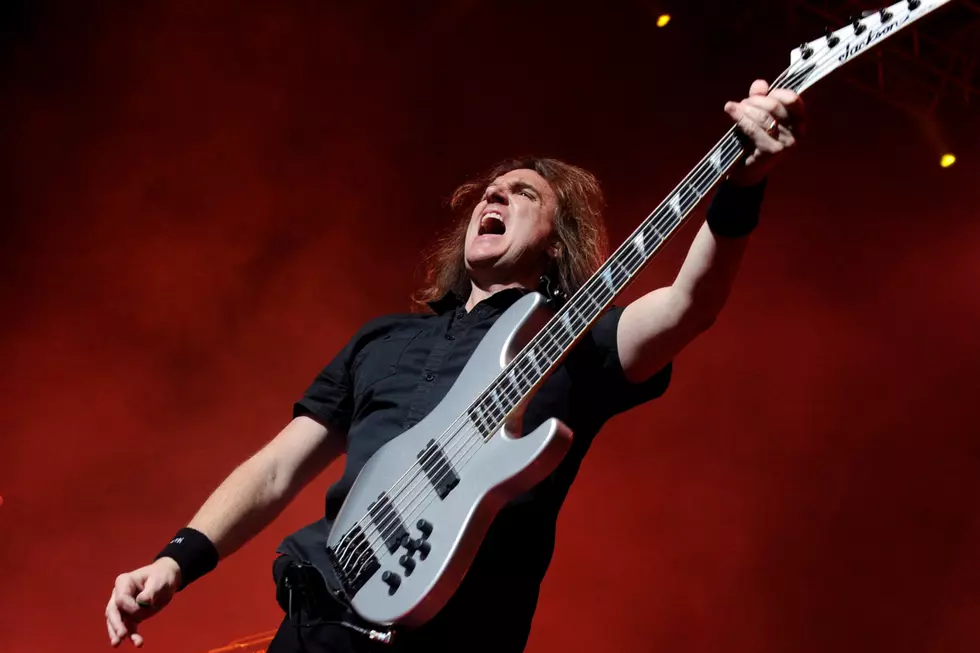 Megadeth's David Ellefson Got Dave Mustaine's 'Blessing' to Try Out for Metallica
Kevin Winter, Getty Images
The longtime Megadeth bassist recently recalled the circumstances surrounding the 2001 departure of Metallica bassist Jason Newsted, and he revealed that he himself may have had the chance to be the group's bass player.
After Newsted left Metallica, the band didn't get a permanent replacement until Ozzy and Infectious Grooves bassist Robert Trujillo joined following the recording of St. Anger. (On that album, producer Bob Rock plays bass.)
But, speaking to Bad Wolves guitarist Doc Coyle on his Ex-Man Podcast this week, the musician let it drop: Back then, Metallica's Lars Ulrich reached out to Megadeth's main man to ask if they could invite Ellefson for an audition.
Listen below, at around the 30-minute mark:
"I did not," Ellefson recalled when asked by Coyle if he was granted a Metallica audition. "Lars had contacted Dave [Mustaine] to ask him permission. Which I thought was kind of him to say, 'Hey, would it be OK if we reach out to Ellefson?' We had just recorded and turned in The World Needs a Hero."
The bassist continued, "Dave called me and he said, 'Listen, I would hate to lose you, but as your friend, I certainly couldn't hold you back from an opportunity like that.' So he gave it his blessing. I never did get the call."
While Ellefson didn't get the chance to audition, he remained a staunch supporter of Metallica. Especially their earlier work, with the musician citing the band's mid-1982 demo (on which Mustaine plays) as one of his favorites.
"I'm a big Metallica fan," he said. "Starting with No Life 'Til Leather. In fact, quite honestly, No Life 'Til Leather — that's my heart of Metallica. I love Kill 'Em All. I really love Master of Puppets. .... There was a different vibe about it."
Of course, the difference may owe to Mustaine's presence on lead guitar in that early demo, before the musician was ultimately removed from Metallica in 1983. Original Metallica bass player Ron McGovney also appears on No Life 'Til Leather, but he was replaced with the late Cliff Burton the same year it was recorded.
"When I met Dave, Kill 'Em All wasn't even out yet," Ellefson explained. "They had let Dave go. ... So this is June of '83. What I liked was the bass player, Ron McGovney. As much as everybody's really into Cliff [Burton], my Metallica was with Ron McGovney. And that's why on 'Mechanix,' when we put it on Killing Is My Business, I played Ron's bass line."
To that, the Megadeth member brings us back to 2001 — him sitting down with some 'tallica tracks to learn the tunes. It was in that moment, he recalled, that he initially became attuned to the shared characteristics between both bands.
"I sat down in 2001," Ellefson said. "I thought, 'If I do get the call, I should probably be kind of prepared.' So the first time I sat down and I actually played along with something simple, like stuff off The Black Album, 'Holier Than Thou,' stuff like that. And that was the first time I realized, man, for as much as Metallica and Megadeth are so similar — seemingly similar — riffs… Dave obviously having been in the band, so there's a piece of the DNA inside of Megadeth, for sure, the way Dave phrases his vocals over the riffs versus how James [Hetfield] phrases his vocals. ... Dave's almost like Geddy Lee does it."
Musicians Fans Most Want Back in Their Old Bands