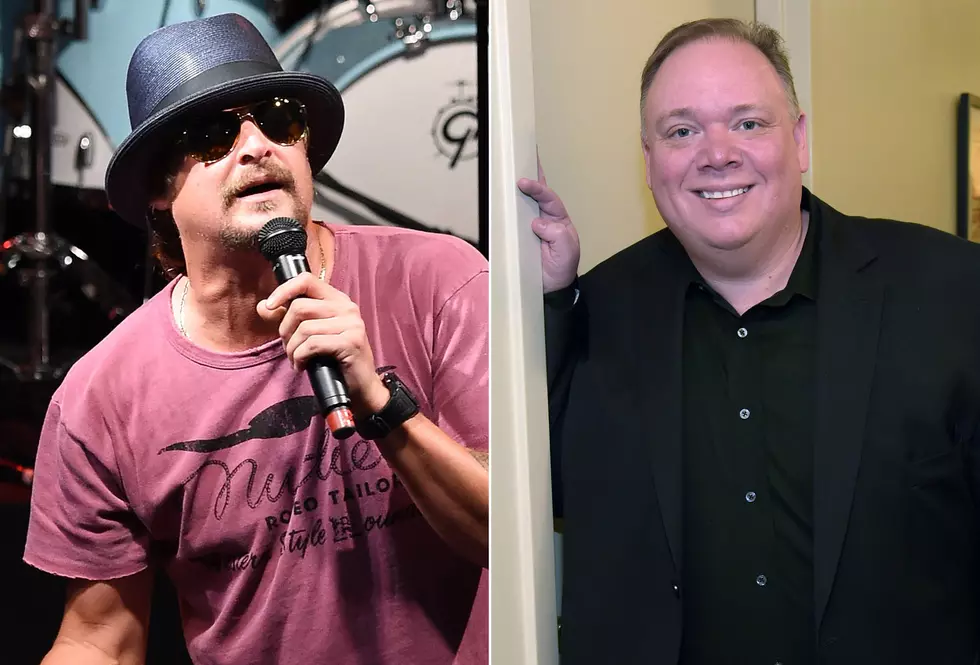 Kid Rock Fires Publicist Following Sexual Misconduct Allegations
Jamie McCarthy / Rick Diamond, Getty Images
Earlier this week, Kirt Webster, a powerful Nashville-based publicist, was accused of sexually assaulting an aspiring young country singer. In response to the news, several of his clients, including Dolly Parton and Billy Ray Cyrus, have cut ties with him, with Kid Rock being the latest to fire him.
"The one comment I will address head on is on Kirt Webster," he wrote in a statement reprinted at Rolling Stone. "Which the shocking accusations of sexual assault and mistreatment of others I take dead seriously. I never witnessed or heard about any of this outside that he was probably gay, which I could care less about. We (BMG) cancelled his and his companies services upon not only hearing about these, but other rumors that are starting to swirl. I hope to god this s--- he is being accused of is not true as he has been nothing but a good friend to me. But if it comes to light that it is, I will be the first to cut the head off the snake. Unfortunately, I believe sexual harassment is like cancer. We all know someone affected by it and it has to stop."
On Tuesday, Nashville Scene reported the story of Austin Rick, who moved to Nashville in 2008 with the intention of launching a career in country music under the name of Austin Cody. He quickly met Webster and became his client. "I trusted him completely," Rick said, "and he wanted to make me a star just long enough to sexually molest and abuse me. And I remember one time he told me, 'I want there to be fireworks in your career, but only if there's fireworks between us.' And that was like pretty early on in our relationship."
Rick detailed several accounts of misconduct by Webster, including demanding that he strip naked so that he could perform oral sex on Rick. The last straw was a party at Webster's house, where he alleged that Webster fondled his genitals in a hot tub. Later that night, he woke up in Webster's bed to find his publicist "hugging me, kissing me all over my face and mouth, and neck and lips." Rick believes he was drugged.
"I know I was sexually assaulted, I don't know if I was raped," Rick continued. "When I woke up in his bed, I knew after that I had to leave."
Rick then left Nashville, joining the Army and attending college at the University of North Carolina. It's only been as a result of the recent #MeToo campaign that he's decided to come forward with his story.
"For years, I was so ashamed, and since then, I've overdosed once and I've slit my wrists another time," Rick said. "I've been in therapy for seven years. I just want to try to get some validation that I am still a worthwhile person, while at the same time, making sure that no other victim is his again."
In a statement, Webster denied the allegations, although he admitted to having a consensual relationship with Rick. The day after the Scene's story was published, he stepped down from his firm, Webster Public Relations.
Our sister site Taste of Country has an interview with Rick where goes into further detail about his history with Webster, as well as stories from his former employees, male and female, who describe numerous times Webster made inappropriate comments or fondled them.
The 50 Most Influential Rockers of the 21st Century