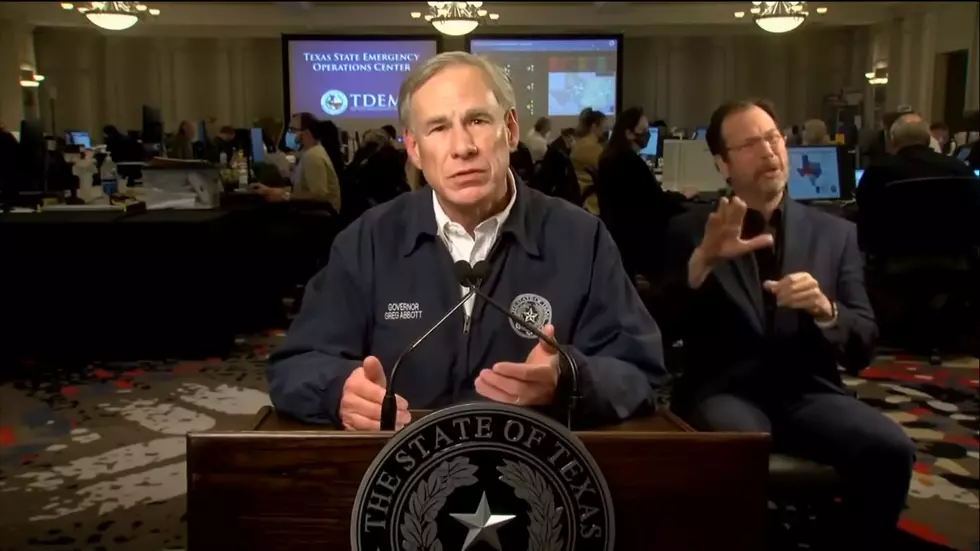 Governor Abbott Announces Three Step Plan to Address Energy Grid Failure
Gov Greg Abbott, YouTube
Winter Storm Uri has rolled through Texas and left millions of us facing all kinds of issues from broken water pipes to skyrocketing utility bills.
Count Governor Greg Abbott in as one of the many Texans who are upset about how unprepared our electricity services were as ice, snow, and record low temperatures tore through Texas and left millions without power and water. Abbott is trying to assure folks that changes will be made and Texans won't face those same problems in the future.
"You deserve answers," Abbott said in a public address Thursday. "You will get answers."
According to reports, Abbott has addressed the utility issue with a three-point plan.
---
---
According to a report from KXII News 12, Abbott said, "This legislative session will not end until we fix these problems." 
Abbott proceeded to lay out his three-point plan by first stating that Texans won't have their power shut off due to any unpaid bills due to an emergency order by the Public Utilities Commission of Texas on Sunday. That's great news, as many have already received bills totaling in the thousands of dollars.
He said his legislature will lay out a plan in the near future. Abbott said, "It is outrageous for residents to be settled with sky rocketing power bills, the state is already investigating multiple electric providers about these spikes." 
His second point was calling for a complete overhaul of the company that runs the electric grid in Texas, ERCOT. That company announced earlier this week that the grid was 4 minutes and 37 seconds away from a total collapse. Five ERCOT board members including the chair and vice chair have already resigned.
US-105's Home Improvement Kick Starter Recommendations
Third, Abbott plans to address the extremely high bills Texans received in the days following the storm. He will also require the grid to be prepared for any future extreme temperatures. Abbott said, "Each of these power sources failed to fully produce because of inadequate safeguards."
Governor Abbott also said his administration will work to add more power to the states grid to prevent this problem from happening again.
"Our task now," Abbott said, "Is to take the lessons learned from the past week, as well as the anger that we all feel, and channel them into immediate action."
Abbott said he has made responding to the storm's aftermath an emergency item this legislative session, and that he and state lawmakers are working on three main points:
1) Protecting Texans, specifically from outrageous electric bills and shut-offs before the legislature can act.
2) Overhauling ERCOT, with comprehensive investigations to begin Friday and reforms to add more power to Texas' grid in the works.
3) Making it a legislative priority to mandate and fund the winterization and stabilization of Texas' power infrastructure to address the failures of all its components, including natural gas, coal, nuclear, wind, and solar.
Time will tell how Governor Abbott's three point plan will come together, but it's nice to see that he and our legislators are taking the monumental task of addressing the underlying issues that caused the freezing blackout seriously.
US-105's Home Improvement Kick Starter Recommendations