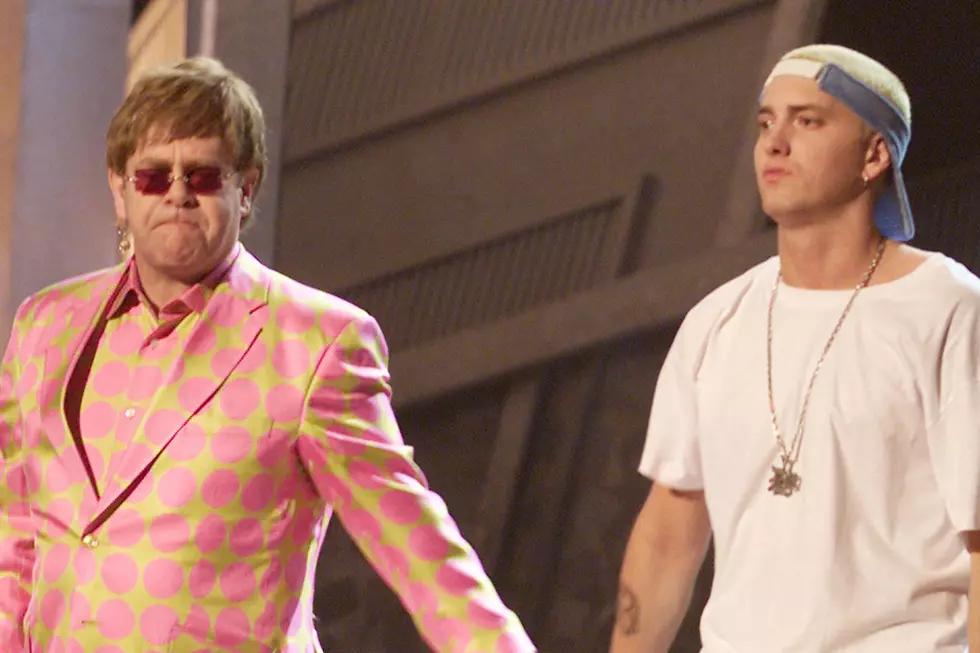 'Eminem Was Never Homophobic': How Elton John Helped Rap's Biggest Star
Kevin Winter, Getty Images
The use of an anti-gay slur, directed at Tyler, the Creator, on "Fall," a song found on Eminem's new album, Kamikaze, has revived questions on whether or not Eminem is homophobic. Early in his career, controversy swirled over the contents of his lyrics, but he found a booster in one of the world's most prominent members of the LGBTQ community, Elton John.
"For me, Eminem was never homophobic," John said in 2017. "I listened to the whole of the Marshall Mathers album when I drove to a show in Southampton and I was floored by it. And I thought how could anyone think this is…he's just writing about the way things are. Not how he thinks, but the way things are."
That led to the two men performing "Stan" on the 2001 Grammys, with John playing keyboards and singing the hook from the sample of Dido's "Thank You." The Gay and Lesbian Alliance Against Defamation, who protested outside the Staples Center during the ceremony, put out a statement saying they were "appalled that John would share the stage with Eminem, whose words and actions promote hate and violence against gays and lesbians."
"I didn't know he was gay. I didn't know anything about his personal life. I didn't really care," Eminem told MTV. "But being that he was gay and he had my back, I think it made a statement in itself saying that he understood where I was coming from."
Watch Eminem and Elton John at the 2001 Grammys
That night at the Grammys was the start of the friendship, and it's continued and deepened over the years, with Eminem reaching out to John to help him get off drugs. "[H]e had a substance abuse problem in the past," Eminem told the Detroit Metro-Times. "So when I first wanted to get sober, I called him and spoke to him about it because, you know, he's somebody who's in the business and can identify and relate to the lifestyle and how hectic things can be. He understands, like, the pressure and any other reasons that you wanna come up with for doing drugs, you know."
"Your sobriety day is in my diary," Elton told Eminem during a 2017 chat for Interview. "I'm so proud of you. I'm 27 years clean, and when you get clean, you see things in a different way. It makes your life so much more manageable. It seems to have made all the difference—I can tell when I speak to you."
John again shot down questions of Eminem's homophobia in 2011 to Rolling Stone. "When David [Furnish] and I had our civil partnership, he sent us a present," he said. "In a case, on velvet cushions, were two diamond cock rings. So there's a homophobe for you."