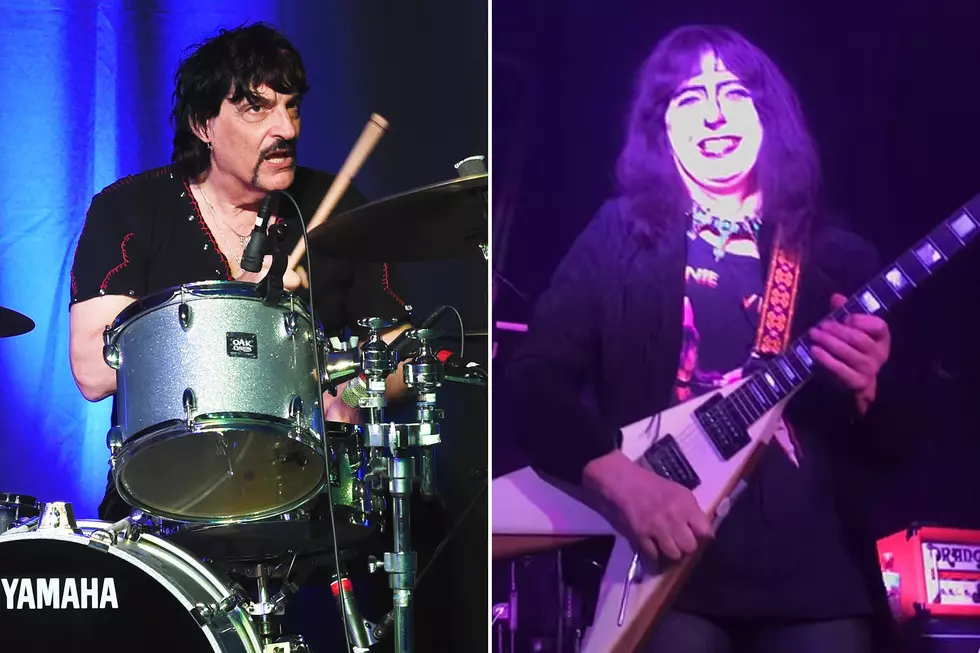 Carmine Appice Says Vinnie Vincent Canceled Comeback Shows
Rick Diamond, Getty Images / YouTube
In a new interview, drummer Appice said Vincent changed his mind about the shows when he backed away from the agreed-upon plan to perform songs he recorded with Kiss and the Vinnie Vincent Invasion.
Speaking to That Metal Voice, Appice and Jim Crean, who was scheduled to be the vocalist at the concerts, gave their take on what happened. Appice started by saying that Christopher, who promoted the Atlanta Kiss Expo, where Vincent appeared last year, "did nothing but try his best to make these gigs happen."
He then explained how Christopher used Appice's friendship with Vincent to get him to perform. Appice then brought in Crean and bassist Tony Franklin, all of whom met with Vincent's approval.
"So we were moving ahead and waiting for a set list," Appice said. "And then when we never got any set list from Vinnie, the promoter sent me, Jim and Tony some lists of songs, which included Vinnie's songs and Kiss songs, and I thought that was what we were going to do. And then Vinnie started to steer away. ... Then, later on, Vinnie said, 'I don't want to do any Kiss songs or my songs, I just want to jam for an hour and a half,' after he just put out a press release with the promoter saying, 'I'm gonna do Kiss songs, Vinnie Vincent songs ... ' This is him verbally saying that on the ad. Then he changed his mind on that and said he just wanted to jam."
You can listen to the interview below.
Vincent repeatedly stated he had no role in cancelling the shows, with a non-disparaging clause preventing him from disclosing more information than "a week before the show was actually canceled, it was determined and decided and agreed upon that the show would proceed as a Vinnie Shredd Festival show because of my dissatisfaction with someone who picked a singer that I didn't approve of."
Both Appice and Crean deny Vincent's account of the story, saying that Crean auditioned by putting his voice to some of Vincent's songs. "Derek called me the day after he talked to Vinnie and said that Vinnie was very happy with the vocals, and he loves it and we are going to make a press announcement and put a poster up as well," Crean said. "So then we started promoting it, and Vinnie started changing his mind."
"The cancellations came from Vinnie," Appice added. "He did not want to do the gig. I gave Vinnie three other singers to pick from but Vinnie did not like them, and Vinnie said Jim Crean was good. Then Vinnie to blame it all on Derek the promoter, who is the nicest guy and is now really ill since all of this happened, is bad. Derek has not been able to stand up for himself because he has been really ill, in and out of the hospital. The last thing on his mind is Vinnie Vincent right now, he is trying to get healthy. And to see Vinnie saying it's Derek's fault. It wasn't his fault. Derek did everything he can to make this gig happen."
"I don't think Vinnie Vincent should be blaming me," Crean concluded. "I was there just trying to help him out. I came into the band late and Carmine is a very high profile artist and so is Tony Franklin so I guess that leaves me and the promoter to blame."
Vincent has now scheduled his comeback as a Speedball Jamm, named after his 2001 limited-edition CD of rehearsal footage, for June 7 at Nashville's S.I.R. Soundstage, which has a capacity of 60 people.
Kiss Albums Ranked