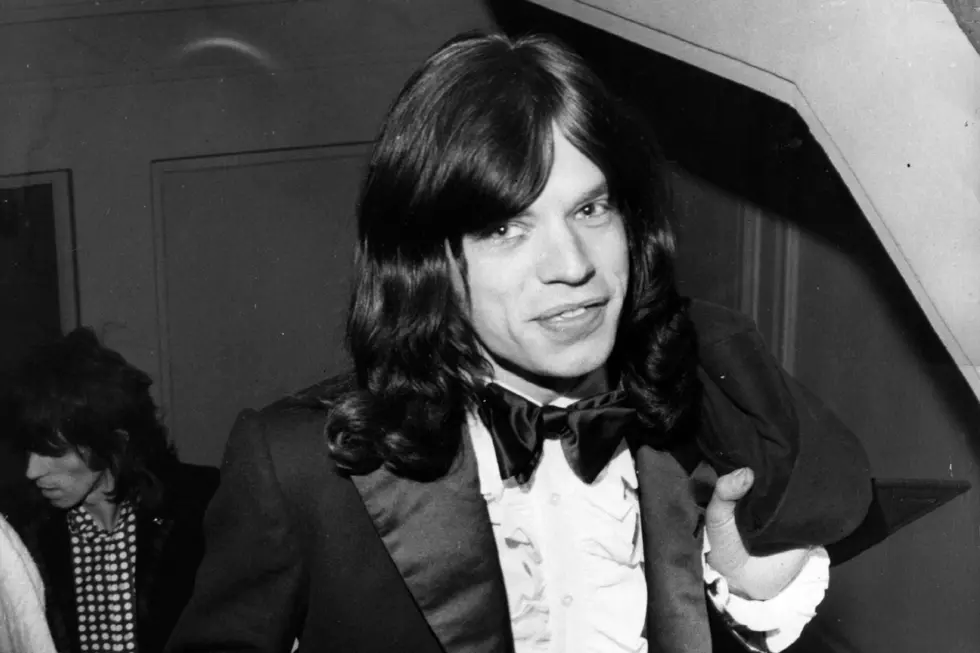 50 Years Ago: How a Gun Injury Led to Mick Jagger Writing 'Brown Sugar'
Hulton Archive, Getty Images
In the middle of 1969, Mick Jagger flew down to Australia to star as the title role in Ned Kelly. But while the movie wasn't successful either commercially or artistically, it holds an important spot in Rolling Stones history as the place where he wrote "Brown Sugar." And it probably wouldn't have happened if not for an accident on the set involving a gun.
According to the Aug. 20, 1969 issue of the Sydney Morning Herald, Jagger was filming a scene -- a recreation of the siege at Glenrowan that led to the famous outlaw's capture -- that involved, in his words, "shooting a lot of policemen" when the blanks-filled pistol he was using backfired. It led to a piece of metal lodged between the index and middle finger of his right hand. He was taken to Canberra Hospital, where the shrapnel was removed, leaving his hand bandaged and in a sling.
"I was trying to rehabilitate my hand and had this new kind of electric guitar," he told Jann Wenner in a 1995 interview with Rolling Stone, "and I was playing in the middle of the outback and wrote this tune."
The entire production of the film, which began shortly after the death of Brian Jones, was mired with problems from the beginning. Casting an Englishman in the role of the Australian folk hero -- whose father was sent to the country as a prisoner -- was controversial in and of itself, even though Jagger's mother spent the first few years of her life in Braidwood, New South Wales, where the filming took place. Marianne Faithfull, who was Jagger's girlfriend at the time, was slated to play Kelly's sister Maggie. But shortly after their arrival in Australia, she took 150 Tuinal tablets -- Philip Norman's biography of Jagger says it was a suicide attempt -- and spent six days in a coma, with Diane Craig replacing her in the movie.
Filming took place over two months in the middle of a cold Australian winter, with many scenes outdoors. Norman reports that members of the cast and crew were regularly ill, co-star Mark McManus was injured when a cart tipped over and a fire caused some of the costumes to be destroyed.
Almost immediately, Jagger dismissed the movie, saying, "That was a load of shit. I only made it because I had nothing else to do … you never know until you do it whether a film will turn out to be a load of shit, and if it does, all you can say is, 'Well, that was a load of shit,' and try to make sure you don't do anything like it again."
So "Brown Sugar" has become the lasting legacy of Ned Kelly. Its title was reportedly inspired by Marsha Hunt -- an African American singer and actress with whom he was having an affair, and later the mother of his first child -- and heroin. Jagger admitted to Wenner that the song's taboo lyrics, touching on subjects like slavery, interracial sex and rape, were "such a mishmash. All the nasty subjects in one go," and that, had he tried to write something along those lines again, "I would probably censor myself. I'd think, 'Oh God, I can't. I've got to stop. I can't just write raw like that.'"
Mick Jagger: Movie Star? Exploring the Rolling Stones Singer's Film Career